'Da Vinci's Demons' Premieres Spring 2013 on STARZ; Cast and Crew Discuss Show at NYCC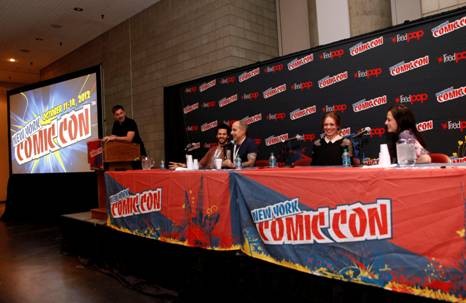 At New York Comic Con last week, the creator and cast of STARZ's upcoming original series, Da Vinci's Demons, discussed the Spring 2013 premiere and what fans can expect.
On hand to take part in a panel discussion moderated by Entertainment Weekly's Geoff Boucher was creator David S. Goyer (co-write of Batman Begins and The Dark Knight) and cast members Tom Riley (Monroe, I Want Candy), Laura Haddock (Captain America: The First Avenger) and Lara Pulver (True Blood).
Goyer calls his version of da Vinci a "Tony Stark prototype" to which Riley, who portrays the character, added "mixed with a bit of Sherlock Holmes and Indiana Jones."
In Da Vinci's Demons, the "artist, inventor, swordsman, lover, dreamer and idealist" is 25-years old and "struggles to live within the confines of his own reality and time. He begins to not only see the future, but invent it."
Haddock portrays Lucrezia Donati, the mistress of Lorenzo Medici and lover of da Vinci, while Lara Pulver plays Clarice Orsini, the head of the Medici Bank and de facto ruler of Florence.
Production on the first season will wrap later this fall, with the eight-episode series beginning sometime in Spring 2013.