Cyndi Lauper To Stage Christmas Benefit Concert In NYC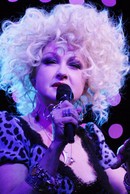 Singer Cyndi Lauper is to perform a star-studded pre-Christmas benefit concert to raise money for homeless gay youth.

Norah Jones, Debbie Harry, Chely Wright, Vanessa Carlton and Amy Lee will be among the acts taking to the stage at Lauper's Home For the Holidays show at New York City's Beacon Theatre on December 4th.

Lauper, a longtime advocate for gay rights, will donate all proceeds from the show to her True Colors Fund, which helps young gay, lesbian, bisexual and transgender people suffering tough times.

She says, "When I first learned that up to 40 per cent of all homeless youth in this country identify as gay, lesbian, bisexual or transgender I was shocked and saddened. For far too long homeless youth have not received the attention, resources and funding necessary to bring an end to this epidemic."

"My hope is that through this inspiring evening of music and comedy we can raise awareness and much needed funds to help these young people."

Gay stars Rosie O'Donnell, Wanda Sykes and Alan Cumming will also make special appearances at the holiday gig.