CW's 'Vampire Diaries,' 'Gossip Girl,' '90210,' 'Supernatural' & 'Top Model' To Return Next Season

The CW Network has given early pickups to five series for next season, including four signature dramas and the reality hit
America's Next Top Model
. All five shows will return in Fall 2010.
The series receiving early renewals include this season's breakout hit
The Vampire Diaries
, The CW's most-watched show (4.6 million viewers) and the network's number one show among adults 18-34 (2.5/8). The network also renewed fan favorite
Supernatural
, which will enter its sixth season next year.
Also given early pickups for next season are The CW's Monday night sensation
Gossip Girl
, which is The CW's number one show among its target demographic of women 18-34, and Tuesday's trend-setting drama, 90210, which sees some of TV's largest percent increases from DVR playback, nearly doubling its women 18-34 live-only ratings once live+7 data is included. Wednesday anchor "America's Next Top Model" will also be back for cycles 15 and 16 with superstar Tyra Banks and new groups of aspiring models.
'The Vampire Diaries' Hot Topic Tour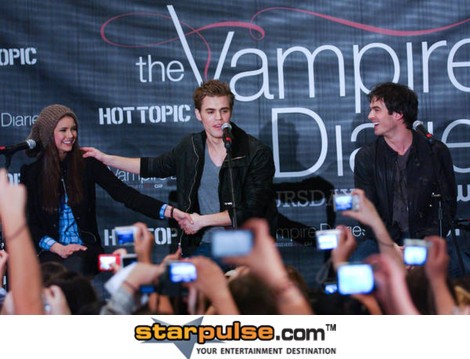 Image © PR Photos