Curtis Armstrong On Finding 'King Of The Nerds' And 'Dan Vs.'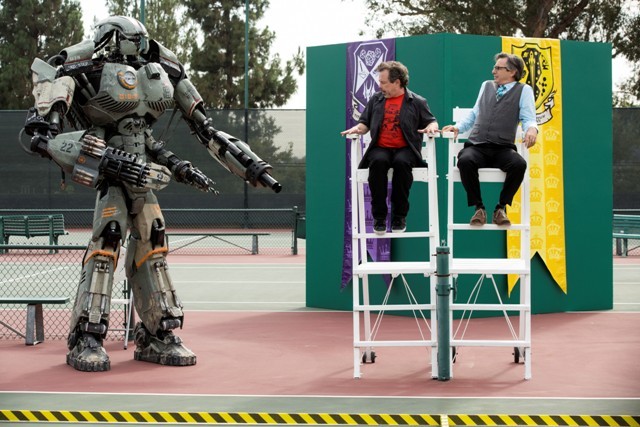 They don't make nerds cooler than Curtis Armstrong. The actor - pictured above between his co-host Robert Carradine and a dodgeball-playing robot - is host of TBS's King of the Nerds. He also happens to be the voice of one of the best animated characters ever, Dan from The Hub's Dan Vs. BFTV spoke with Curtis last week about season two of King of the Nerds, and if Dan Vs. is really over.
Between season one and season two is when many shows are refined and tweaked, so were things changed up between cycles of King of the Nerds? "A lot, yeah," Curtis told us. "Our producing partners, 5x5 Media and Electus, are both with a lot of experience in unscripted competition shows. I knew that they knew all sorts of stuff that Bobby Carradine and I didn't know.
"I also didn't realize that when you start a new unscripted show, there are always going to be things that are going to come up. In the case of King of the Nerds, a lot of the things that we had to tweak were technical things. In some cases, they were some of the challenges where we said, 'We need to up the ante with the challenges. We have to make them nerdier.' Those kinds of things.
"The biggest thing that we had to change was the ending. We got in just a storm from people for the way that we resolved the series," he revealed. "We had what was essentially a popularity contest where the nerds just voted for the two [finalists], which is just not right. At the time, we didn't see how wrong it was."
There are four more episodes left in the show's second season, and there's still plenty to look forward to. "We kept a couple [challenges] from last year, like the debate; we kept the debate [and] we made a new debate topic," Curtis teased. "We have Nerdio Kart, which is essentially our live gaming challenge. [It's] putting the nerds in a recreation of Tron, the old Disney film, where they have to race karts around a black track. And that was a really cool thing. Seeing them zooming around was fantastic. There is a Nerd Spelling Bee coming up, which has to be seen to be believed."
But as cool as the challenges are, what separates King of the Nerds from the competition-show pack are its two hosts, Curtis and Robert Carradine, who are so obviously enjoying themselves that they raise the energy of the series itself. "It's a dream job, except I never dreamed I would have a job like that," Curtis told us. "I've never produced, so I've never been behind the scenes on any of these things before, and to be behind the scenes is fascinating.
"I've become very attached to the nerds. Some of the nerds from the first season and the second season have become friends of mine, and I just love them to death. I think they're fabulous."
"The most gratifying part of it is that so many of the people who are watching the show are people who would not normally watch a reality show," he continued. "Our show really is a little unusual when it comes to these type of shows. You don't usually have hosts who will dress in full drag for a laugh. It happens with me all the time."
"I think because people can see through these people, they can almost see what they were like when they were children. Because everyone went to school with nerds. Everyone knows nerds," he added. "There is a sympathy and a warmth that comes out of them that you just don't get on a show like Survivor. It's almost impossible to see our show and not become emotionally attached. But at the same time it's never sappy. There's no fake emotion. There's no message really other than celebrating the basic nerd values."
In addition to hosting King of the Nerds, Curtis continues his prolific acting career, both in live-action and voice acting. "I'm working on a couple of things at once right now. This week, I'm shooting another episode of New Girl. I've been recurring on that show. Next week, I start another episode of Supernatural, which I'm also recurring on," he said. "I'm still recurring as a voice on American Dad. Basically at this moment, with Nerds currently on the air, I'm involved with four different shows at once. It's hard for me to believe that at my age, I've got four jobs."
But to us, Curtis will always be known as the man behind one of our favorite animated TV characters, the perpetually enraged Dan from The Hub's Dan Vs. Fans have been wanting to know if there will be a season four of that show since season three ended last March, so we asked Curtis if he could answer that question. "I can tell you that we haven't made an episode in two years. I guess you can do the math," he told us.
"No one has contacted me from that company since we were nominated for an Emmy. I went to the Emmy ceremony with Brian Sheesley, who got an Emmy for his work on Dan Vs. as a director. And absolutely nothing was said about renewing the show or anything about the show, except for the fact that we all missed doing it. As far as I am concerned, it's cancelled."
While we'll definitely miss Dan Vs., the good news is that there's no shortage of other shows on which we can enjoy the fantasticness that is Curtis Armstrong. None moreso than King of the Nerds, where he serves as the perfect emcee for celebrating nerdiness. For all of his wonderful contributions to our entertainment, whether it be live-acting, voice-acting, or hosting TV's most unique competition show, he definitely has a place in our TV Hall of Fame.
King of the Nerds continues tonight at 10 PM ET/PT on TBS.
(c)2014 Brittany Frederick. Appears at Starpulse with permission. All rights reserved. No reproduction permitted. Visit my official website and follow me on Twitter at @tvbrittanyf.