'Curb Your Enthusiasm' Recap: 'Vehicluar Fellatio'

Last night on "
Curb Your Enthusiasm
", Larry David faced down one of his oldest enemies: germs. He also attempted to extricate himself from the situation that's currently giving him the most trouble, his relationship with Loretta Black.
Of course, in the land of
Larry David
, everything can cause a little bit of trouble, even something as pleasurable as oral sex. In "Vehicluar Fellatio", that bit of roadside help seemed waiting for Larry at every curve, guiding his every action in this episode.
Initially, we find Larry trying his best to get rid of Loretta. Fearing the reprisal of dumping somebody with cancer, he discovers the perfect solution: A doctor who insists cancer patients remove themselves from toxic relationships. Larry, in something of a Marx Brothers routine, acts even more obnoxious than usual, if that's actually possible.
This seems a clear path to relationship extrication, until Loretta and Larry spot the doctor performing the act of the episode's title. Instantly ruining her credibility and leaving Larry seemingly stuck.
Help arrives in the form of Leon's
Seinfeld
-fan friend's wife (with whom Leon is having an affair) whom Larry accidentally sends into a murderous rage by mentioning his wife's beauty in the eyes of his philandering houseguest. While hiding from her husband at their house, Loretta catches Larry in an act that appears to be more car-borne oral sex and ostensibly drives back to New Orleans.
This roundabout bout of passenger seat pleasure is reminiscent of an old "Seinfeld episode" in which one running theme manages to connect about fifteen different plots. In fact, this theme didn't even begin in the main plot as we were first introduced to the driver distraction through the favors granted to
Richard Lewis
by his new girlfriend.
While "Curb Your Enthusiasm" is usually more of straight-line (Larry's single obstacle each and how it affects everybody) "Vehicular Fellatio" was more roundabout, with the title's concept bombarding the viewer from a variety of direction, ending with Jeff and Susie's accident as a result of doing the dangerous-while driving act.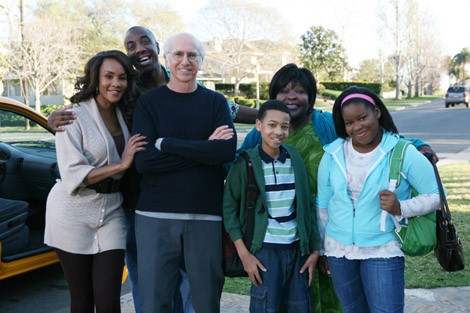 Image © Home Box Office
It's almost as if David was setting up the viewer for the "Seinfeld" reunion with a throwback brand of storytelling that would get the audience ready for the return of the fab four. Which, of course, is coming next week. . .
Episode Grade: A-
Bookmark our 'Curb Your Enthusiasm' News page & check back for regular episode recaps & news!
Story by
Andrew Payne
Starpulse contributing writer