'Curb Your Enthusiasm' Recap: ' The Table Read'

And here we are, finally at the place we'd been waiting to get to since the season began - a place of nothingness, a place of "
Seinfeld
". Of course, that didn't mean we had to leave "
Curb Your Enthusiasm
" completely behind in the process of returning to its predecessor.
The episode revolved around the table read and dress rehearsals for the "Seinfeld" reunion special. Those scenes were pretty much run-of-the-mill behind-the-scenes TV stuff, not a whole lot new, but it was a bit thrilling to see the rulers of 90s television back in their element.
The uniquely "Curb" touches came in the events surrounding the table read. There was
Jason Alexander
's defiling of Larry's borrowed pen, there was
Michael Richards
' struggle with Groat's Disease (a callback to an early season episode featuring
Rob Reiner
, a charity lunch, and a speedy child pianist), there was Leon's attempt to relieve Michael's Groat's struggle, and, of course, Larry's seeming affair with a nine-year-old girl.
Yes, only Larry David could turn an aspiring writer and innocent texter into the subject of perceived pedophilia, but he did it with ease. The girl's mother is most likely to blame, after telling Larry about her daughter's vaginal rash and Larry refusing to stop talking about it, it wasn't difficult for his eventual breakout and explanation thereof to seem like a
Gary Glitter
moment.
There's not much funnier than
Larry David
naively explaining to the doctor that a nine-year-old girl he's been seeing might have spread her very personal rash to his skin and that's why he's currently breaking out in hives, but strangely this episode managed to outdo even that bit of surrealism.
How? Quite simply. When Michael discovered that Leon's attempt to help him through his Groat's was all a lie, he confronted him in the studio lot. This angry verbal confrontation was caught on cell phone cameras being held by a line of people waiting to attend a taping, all while Michael tried to figure out some horrible name he could call Leon. Sound like something familiar?
This jolly bit of self-satire was "Curb Your Enthusiasm" at its peak; a brilliant bit of self-reference that showed once again this show does not have any limits at where it directs its comedic eye, even going so far as to have one of its actors make light of maybe the worst day of his life.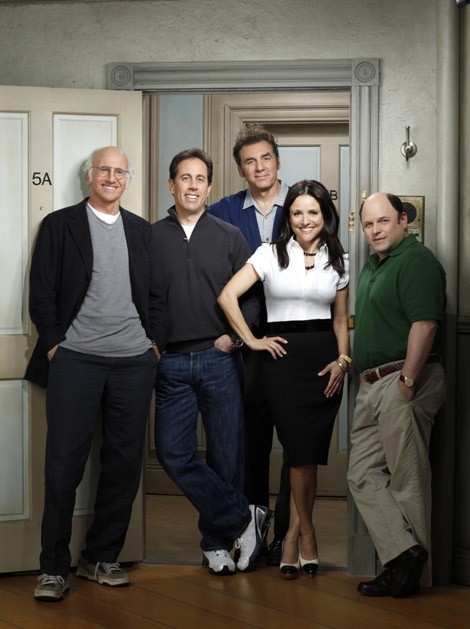 Image © Curb Your Enthusiasm
And that, is the "Curb" we've come to know and love. Even as it masquerades as another show, it can't help but be the snarky satirical gem that knows know bounds.
Bookmark our 'Curb Your Enthusiasm' News page & check back for regular episode recaps & news!
Story by
Andrew Payne
Starpulse contributing writer