'Curb Your Enthusiasm' Recap: 'Officer Krupke'

"There are only two ways to injure your neck: A car accident and cunnilingus." ~
Larry David
If the above sentence were the only words spoken during "Office Krupke", the eighth episode of this season of "
Curb Your Enthusiasm
", the would have been enough to make it a classic. Fortunately, Larry David saw it fit enough to build an entire half-an-hour around those fourteen words.
Okay, so it wasn't all built around that. The action of the episode was mostly built around two pairs of pants: the pair Larry kind of stole from a Santa Monica Banana Republic and the pair of panties Susie found in Jeff's glove compartment.
The latter would ordinarily become a precarious situation for any married man, except the nimble mind of Mr. Greene happened upon the perfect solution: Tell Susie Larry like to wear panties. Amazingly, Larry bought in. And, when the titular cop asked Larry to return the stolen pants, the audience was treated to the lovely image of Larry in a pair of women's briefs. Solid red bikini-cut. If I'm not mistaken.
This wasn't the whole story though. We got some more "
Seinfeld
" as Cheryl was forced to audition against an unknown actress who looked surprisingly like
Elisabeth Shue
. The unknown got the part, but had to drop out due to a bizarre neck injury suffered after her husband propositioned Chery for a ménage a trois.
Of course, this series of events led Larry to the conclusion that this actress must have performed oral sex on his ex-wife. After all, neck braces only come as result of one of two things.
This episode did an exceptional job of examining the skewed worldview of everyone involved. Why would Jeff choose Larry's wearing panties as an excuse? Why would Larry so quickly assume that cunnilingus is the only culprit for neck injury? Why would Larry traumatize children for lackluster Lemonade (a not-mentioned plot point, but one twisted all the same).
This is where "Curb" mines the best of its comedy. Through its characters' seeing the world differently from those we would consider normal, the series mines an endless supply of comedy gold. One that last night resulted in the funniest button in the history of the show: Jeff in a neckbrace imploring Larry to tell Susie that he'd gotten in a car accident.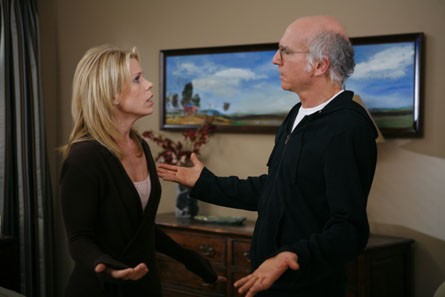 Image © Home Box Office
Sometimes all an episode of "Curb Your Enthusiasm" is is an extremely long premise awaiting a punchline in which Larry masterfully uses his characters as pawns and their twisted views as nothing more than a means of setting up that eventual payoff. And, as with "Officer Krupke", that destination is usually more than worth the twisted path trodden to get there.
*Also: Two random celebrity sightings in this episode:
1. As the store was being evacuated for the fire alarm at the beginning, Ben Affleck walked out with the rest of the patrons.
2. As Larry ate lunch with Cheryl and asked her about the cunnilingus, poker professional Eric Seidel dined at the next table.
Who knows if this was planned, or if the guerilla-style filming of this series just happened to find the two stars in the frame.
Bookmark our 'Curb Your Enthusiasm' News page & check back for regular episode recaps & news!
Story by
Andrew Payne
Starpulse contributing writer