'Cult' Premiere: 'These Things Just Snap Right Off'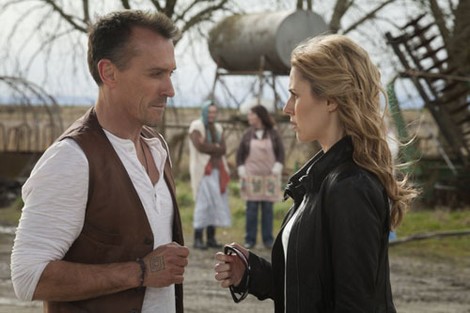 Will Cult develop hardcore obsessed fans of it's own 'show within a show?' Last night's premiere thrilled, chilled and confused viewers introduced to both.
Jeff Sefton, disgraced ex-Washington Post journalist, lost his career and reputation over falsifying information that led to several police officers being jailed. So when his own brother, Nate, disappears following an obsessive study of the hit TV show "Cult," Jeff doesn't get much sympathy from local lawmakers.
Nate's left behind an odd pair of sunglasses, and his elaborate journal. Are there hidden messages embedded within the scenes of "Cult?" And what is the significance of the catchphrase "Well hey, these things just snap right off."?
Jeff looks for answers on the set of "Cult," with the help of research assistant Skye. Skye's own father disappeared ten years ago, while investigating Steven Rae, the reclusive executive producer and writer who created "Cult."
The show's star, Roger Reeves, plays cult leader Billy Grimm, a ruthless man determined to control former follower Kelly, now an LAPD detective. Kelly's sister and child have been kidnapped, and she is determined to get her family out of the cult's clutches.
Creepy looks and suspicious red cars abound in the streets, while clips of the show "Cult" are aired seemingly wherever a television monitor is available. Jeff gets a call from his brother, who warns him not to try and find him. But at Nate's apartment, Jeff finds a CD similar to a sinister CD seen in a "Cult" episode, which has the ability to take over the user's computer, leaving the user under the cult's control. Skye warns Jeff about the danger, but says she doesn't know what will happen next. That part hasn't yet been written.
Jeff uploads the CD. Putting on the 3D glasses, he enters the odd catchphrase, and causes some sort of program to begin. Nate immediately calls, angry that Jeff inserted the CD. He warns Jeff to flee, saying that he doesn't want to be found. As the connection is broken, Jeff's driver's license appears on the screen, along with "Cult" star Billy's face, saying "You're next."
Oh dear.
To make matters worse, we next discover that the female detective leading the investigation into Nate's disappearance has a tattoo of the television show's logo. And – blink or you'll miss it – the writer/producer of "Cult" is kidnapped by people driving the red car seen when all other disappearances have occurred, whether in Real Life, or the television show.
Confused yet? This series will either intrigue you with it's twisty-turny circular plots, or burn your eyes out as you try and remember just whom is playing whom, and in which universe. The writing is clever, the acting tight, and the possibilities endless. From executive producers Rockne S. O'Bannon, Josh Schwartz, Stephanie Savage and Len Goldstein.