Crystal Harris: 'I Was Not The Only Woman In Hef's Life'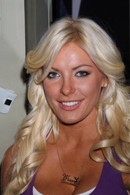 Hugh Hefner's former fiancée Crystal Harris broke down in tears during her first TV interview since the split, revealing she called off the wedding because she was "not the only woman in Hef's life."

The 84-year-old Playboy mogul was due to marry his favorite Playmate on Saturday, but Harris cancelled the ceremony and ended their romance just four days before they were supposed to exchange vows.

She has now given an emotional TV interview with Entertainment Tonight, sobbing as she spoke about the shock split and revealing she just "didn't feel comfortable" about sustaining a marriage with the Playboy boss because of his multitude of bunny girls.

A tearful Harris told host Chris Jacobs, "I can honestly say I was not the only woman in Hef's life and I didn't feel comfortable in my heart knowing that and being able to get married to him. Marriage is between two people and that's not what our relationship was... I had a great time there and I wouldn't trade it for the world..."
"It makes me realize that money isn't everything... I disappointed everybody. I felt like I did."