Critics Slam Michelle Williams' 'Redface' Image In AnOther Magazine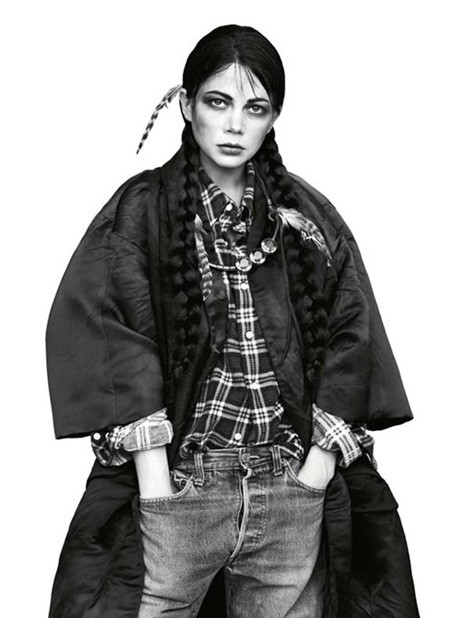 A new photo featuring sweet faced Michelle Williams dressed up like a Native American is stirring up trouble among those who believe the image is racist.
British fashion and culture magazine AnOther features the actress in eight different outfits and costumes, but a black and white pic showing the actress with stark make-up, long braids, and feathers in her hair is causing an uproar.
Jezebel published an article by Native American writer, scientist, and tribal attorney Ruth Hopkins, who was offended by the "redface" image. She also mentioned the connection between Williams, who stars in "Oz: The Great and Powerful," and "Wonderful Wizard of Oz" author L. Frank Baum, who in 1890 wanted the extermination of all Native Americans.
In response to the controversy, AnOther issued the following statement: "While we recognize the seriousness of this debate, the image in question in no way intends to mimic, trivialise or stereotype any particular ethnic group or culture, as recent reports suggest.

"The image (which is not, in fact, the cover of the magazine) is one of a suite of images taken from inside the magazine, presenting Ms. Williams in a series of eight different imaginary characters.

"All the characters in the story were inspired by multiple fashion and cultural references, characters and eras, as well as by our admiration of Ms. Williams as one of the most respected and talented actresses of her generation.

"While we dispute the suggestion that the image has a racist subtext in the strongest possible terms, we're mortified to think that anyone would interpret it in this way."
Last November, Victoria's Secret was criticized after model Karlie Kloss wore a colorful feathered headdress, chunky turquoise jewelry and a fringed belt during its annual fashion show. The company later apologized for the costume.
A week prior to that, the band No Doubt removed their new music video from the internet after viewers complained it was racist. Gwen Stefani appeared in stereotypical Native American garb and was abducted by cowboys before a fellow Native American rescues her.
Meanwhile, Johnny Depp portrays Native American Tonto in Disney's upcoming film "The Lone Ranger." Will the film be met with the same criticism?
See all the images from Williams' photo shoot at AnOther magazine.