Critically Acclaimed 'Waitress' Comes To DVD November 27; Win A Copy!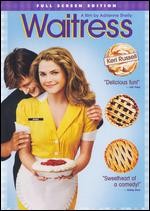 A favorite of critics and audiences alike,
Waitress
, the irresistible film filled with delicious spunk, arrives on DVD November 27, 2007 from Fox Home Entertainment. This "vibrant and uplifting comedy" (Entertainment Weekly) follows the day-to-day realities of a small town woman who ultimately transforms her seemingly hopeless life into a hilarious and unexpected love story. "Both satisfying and surprising . . . a movie that leaves you feeling good" (The New York Times),
Waitress
is a whimsical romantic comedy that reveals the power of friendship, motherhood and the willingness to take a chance.
The final film of actress/writer/director Adrienne Shelly (Factotum, The Unbelievable Truth), Waitress stars Keri Russell (The Upside of Anger, "Felicity") as Jenna, a simple diner waitress stuck in a lousy marriage whose only solace is baking scrumptious pies. Aptly naming her delectable desserts after her daily emotions, Jenna hopes to one day win the local pie-baking contest earning $25,000 and a fresh start. Concocting a recipe for a new life gets difficult though when she finds herself not only pregnant with her good-for-nothin' husband's child, but also in love with the town's awkwardly charming new OB-GYN. While Jenna's "I Don't Want Earl's Baby" pie might not secure her the grand prize, her "Kick In The Pants" pie may be just what she needs.
Waitress also features a dynamic supporting cast including Emmy®-nominee
Cheryl Hines
(
Curb Your Enthusiasm
,
RV
),
Nathan Fillion
(
Firefly
,
Serenity
),
Jeremy Sisto
(
Thirteen
,
Six Feet Under
) and classic television star
Andy Griffith
(
The Andy Griffith Show
,
Matlock
). Waitress arrives on DVD brimming with bonus features such as a "Making Of" the film, actor and director profiles, featurettes and more.
Presented in full color screen format in English Dolby Surround 5.1 with English, French and Spanish subtitles, the Waitress DVD is loaded with extra bonus features including:
- Commentary by Producer Michael Roiff and Actor Keri Russell
- "This Is How We Made Waitress Pie" Featurette
- "Written and Directed by Adrienne Shelly: A Memorial" Featurette
- "Hi! I'm Keri. I'll Be Your Waitress" Featurette
- "The Pies Have It!" Featurette
- "Fox Movie Channel Presents: In Character with Keri Russell"
- "Fox Movie Channel Presents: In Character with Cheryl Hines"
- "Fox Movie Channel Presents: In Character with Nathan Fillion"
- "A Message from Keri Russell about the Adrienne Shelly Foundation"
-
Enter here for your chance to win one of five copies of 'Waitress' on DVD!
A recognized global industry leader, Twentieth Century Fox Home Entertainment LLC (TCFHE) is the worldwide marketing, sales and distribution company for all Fox film and television programming on VHS, DVD and Blu-ray Disc (BD) as well as acquisitions and original productions. The company also releases all products around the globe for MGM Home Entertainment. Each year TCFHE introduces hundreds of new and newly enhanced products, which it services to retail outlets - from mass merchants and warehouse clubs to specialty stores and e-commerce - throughout the world. Twentieth Century Fox Home Entertainment LLC is a subsidiary of Twentieth Century Fox Film Corporation, a News Corporation company.