'Criss Angel Mindfreak' Returns Tuesday, June 5 at 10PM on A&E; Have Criss Freak Your Friends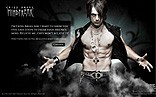 LOS ANGELES, CA (May 16th, 2007) – Magician
Criss Angel
will be back on June 5th for the third season of his A&E show,
Mindfreak
. In the third season – in addition to celebrity guests, street performances and behind-the-scenes looks at magic – Criss Angel will perform all new mind-bending feats: levitating 500 feet above the ground over Las Vegas' Luxor Hotel and Casino, making a Lamborghini vanish – at high speed – and topping
Houdini
himself in a tribute to the father of magic. Called the "postmodern Houdini" by MTV, Criss is the hottest young illusionist in America today. In past seasons, he has astonished fans with such incredible feats as hanging suspended by hooks from a helicopter over the Nevada desert and splitting a woman in two in a public park.
Team up with Criss Angel to freak your friends:
Visit his microsite
www.freakyourmind.com
to give your friends a mind-blowing experience that they won't be able to stop talking about! If you still need more Criss, visit his official site at
www.crissangel.com
and be sure to tune into A&E the season premiere on June 5th.
The third season of Mindfreak begins June 5th at 10PM / 9 Central on A&E.