Criss Angel Gives Us Something To 'Believe' In With New TV Series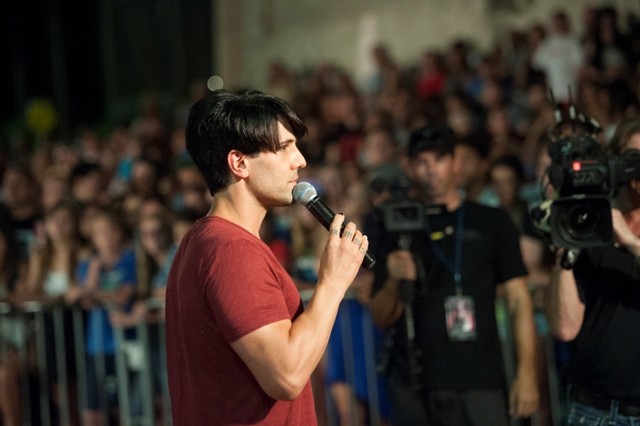 We live in a cynical society. We question everything, from the nightly news to the most basic acts of human kindness. Believing in something - embracing something in the moment without reservation - just doesn't happen that often anymore. But Criss Angel, with his new Spike TV series appropriately titled Criss Angel BeLIEve, has something to say about that.
BeLIEve - which shares its name with Criss's jaw-dropping live show at the Luxor Hotel and Casino in Las Vegas - is eleven weeks of the internationally renowned illusionist bringing eleven major demonstrations to television audiences. It's his triumphant return to the medium since Criss Angel Mindfreak ended three years ago. It's the first weekly magic series on TV since then. It's bringing back an art form that most people don't understand the half of.
Most importantly, though, it's a show that will inspire you to believe. Not blindly - sadly, no one has actual magic powers yet, though if anyone did it would be Criss Angel - but it will compel you to forgo the cynicism, openly enjoy the experience of magic, and understand what makes it possible.
Before tonight's sneak preview, BFTV had the opportunity to sit down with Criss and explore what makes BeLIEve the must-see television event of the fall.
It was the success of Criss's live show, that motivated him to come back to the airwaves.  "We had really achieved an amazing success story with this show. It's the number-one best selling magic show in the world, it's all original stuff and people are really enjoying the show," he told us. "The show is doing amazing, and so I figured now is the time."
"I missed TV," he added. "It's a different medium. What you do live doesn't work on TV, and what you do on TV doesn't work for a live audience. It's just a different animal."
Not only is it a different animal, but it can be a beast. Even if you don't know magic, consider what we do know about television: a one-hour series is about forty-five minutes long after you remove the commercials. Criss might not have any lines to learn, but he and his team have to condense one major demonstration from conception to execution, as well as a few smaller ones, for each installment of BeLIEve.
How do you slim down an act that took three weeks into less than forty-five minutes? How do you accurately capture the eyebrow-arching, breath-holding insanity of things like a blind high-wire walk sixty feet in the air within that time frame? And that's not even going into everything it takes physically and mentally to do the deed - just what's necessary to get it on the air. Good TV is a hard thing to do, and even moreso when you're showcasing the unbelievable.
So how did he pull it off in spades?