'Criss Angel BeLIEve' Preview: 'Levitating Shaq'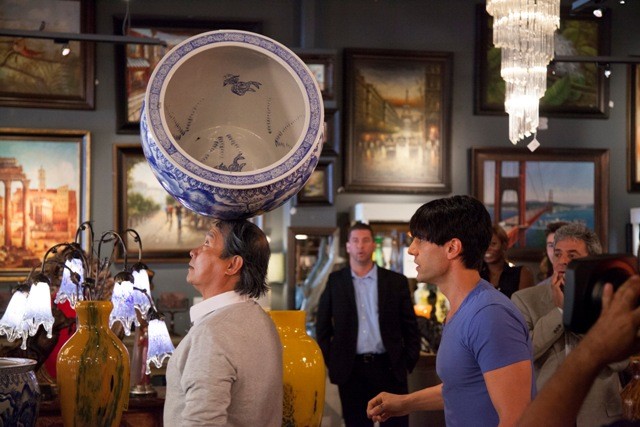 After last week's incredibly emotional episode of Criss Angel BeLIEve, it's time to lighten things up a bit, including a guest appearance by NBA star Shaquille O'Neal. But rest assured, the magic is as entertaining and head-scratching as it always is.
[SPOILER ALERT: If you don't want to know anything about tonight's episode of Criss Angel BeLIEve, stop reading now. This preview contains some general spoilers.]
Levitation is one of the most common tricks in a magician's arsenal, but we're not talking about just floating something a few inches off the ground. No, this being Criss Angel - the man who takes things just that one extra step beyond what most of us would feel comfortable even thinking about - we're talking about lifting all seven feet and an inch that is Shaq. All more than three hundred and fifty pounds of him. And we're moving him over an entire house. As illusions go, this is not groundbreaking, but it might just break someone.
Before we get to that point, though, viewers will get to enjoy an awful lot of Shaq, his banter with Criss, and his larger-than-life personality. This isn't just a celebrity cameo for the purpose of pulling off the stunt. These two are actually good friends - and in fact, the reason this demonstration is happening is because Shaq has challenged Criss to make it happen. There's probably as much of Shaq in this episode as there is of Criss. But for the most part, that's okay, because the NBA champ is having so much fun - and is able to poke so much fun at other people - that he adds to the show rather than distracting from it.
Because of the special guest, and possibly because of the category of magic involved, this episode of BeLIEve is a deviation from the show's winning formula. You won't find out how levitation is performed. There's nothing for resident fabricator Doug to build so that we can gape at it. There's still the usual brief history lesson about the type of magic involved, but that's it. Instead of asking 'How?,' this week we're asking 'Why?' We're learning about why people like Shaq and like Criss Angel fall in love with magic, and through their interactions together and with some local kids, why magic is still worth caring about.
In the smaller segments, the best one involves trusty researcher Jesse trying to ask for directions from a random person. Be sure to watch what happens, because the members of Team Angel do a great job pointing out something that we've all probably been guilty of a time or two.
Tonally, this is the perfect episode to follow 'Raise The Dead.' That episode was tough to watch emotionally and deservedly controversial, whereas this week, the proceedings are lighthearted, laugh-filled, and even a little sentimental as they mention Criss marking the fifth anniversary of his BeLIEve live show at Luxor. Plus, keep an eye out for the vase you can see in the picture above. It's ridiculously expensive and you can't guess what ultimately happens to it.
If you can't wait and want to see more clips from the episode, click on over to our exclusive video here.
Criss Angel BeLIEve airs tonight on Spike at 10 PM ET/PT. Be sure to check out BFTV's in-depth chat with Criss Angel about the series, and follow Criss on Twitter (@CrissAngel).
(c)2013 Brittany Frederick. Appears at Starpulse with permission. All rights reserved. No reproduction permitted. Visit my official website and follow me on Twitter at @tvbrittanyf.