'Criss Angel BeLIEve' Bonus: Meet Krystyn Lambert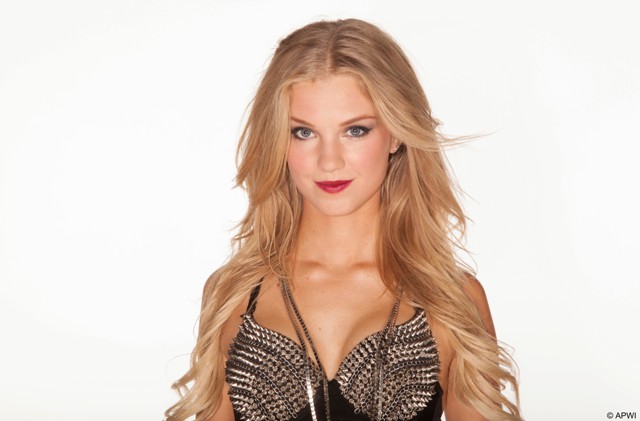 Yes, she's beautiful - but she's also talented, tenacious, and tough enough to hang upside down in a straightjacket. Krystyn Lambert is part of the magic team on Criss Angel BeLIEve, and we snagged a few minutes with her last week to discuss the show, and her own emerging career in magic.
Let's get the obvious part out of the way first: Krystyn is a woman. A ridiculously good-looking woman. The only woman on the magic team, in fact. But none of that is truly relevant. She's part of Team Angel because she's earned the right to be there. In Tuesday's episode, we saw her perform two demonstrations straight out of Criss's BeLIEve live show. Able to escape a straightjacket in midair and handle some intense pyrotechnics, she is definitely not just a pretty face.
So how did Krystyn get to be this badass? Well, we'll let her tell you.
"I have always been a performer. My mother was pregnant with me when she was in Guys & Dolls, so I literally have been on stage my entire life," she explained. "I got my first magic trick when my mother was going through her cancer treatments. I think that was kind of a way to give me something to do in her absence - something to really tinker with and toil with and sort of take my mind off the stuff that was happening with our family at that time. And it worked. Because I realized this is combining acting, logic, and all of my sci-fi obsessions - this is combining everything I love in one practice. And I just completely fell in love with it."
Though she'd considered pursuing an acting career, a visit to the Magic Castle on her tenth birthday convinced Krystyn that magic was also a viable option, and at twelve she joined the Castle's prestigious junior society as its youngest member. From then on, she continued to move up in the magic world. Just last year, she won the Junior Achievement Award from the Academy of Magical Arts. She's been on television. She's traveled to foreign countries. She was an honor student at UCLA. All this and she's not even 30 yet. How's that for accomplishment?
But ask Krystyn, and she doesn't evaluate her success based on the lines on her resume. Instead, she talked with us about the many experiences she's enjoyed over her career. "I really look at times like that first time that Criss called me," she reflected. "I met him a couple of times - I met him at Lance Burton's house, which I think he mentions in the show - but he called me and said, 'I think you have potential. I'd like you to come out and work with me.' That was three years ago."