'Criminal Minds' Star Paget Brewster Gets Re-Animated in New Season of 'Dan Vs.'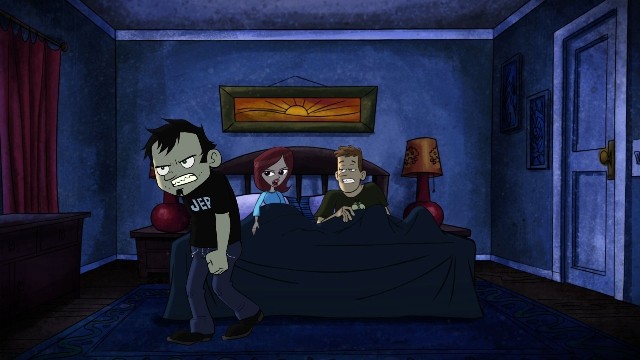 So how does this convention-busting, laugh-out-loud half hour of rampage come together? Paget explained what recording the voices of Elise, Mr. Mumbles and the occasional extra character is like. "When we record, it's usually once a week," she said. "We get together between one and four hours. Hopefully it'll be Curtis and Dave and myself. It's much more fun to record with those guys.
"We do a table read of the show that we're going to record the following week, then the writers discuss that with the network and all those people involved in making the animated part - and then we go downstairs and record the episode that we did a table read of the week prior. It's totally confusing," she admitted with a laugh, especially since the actors won't be able to see the finished product until well after they've finished their voice work.
What's her favorite Dan Vs. episode? "It might have been from the first season, 'Dan Vs. The Dentist,' just because we got to work with Mark Hamill. He was so cool," she said. "Also, I love when I've been able to record with Michael [Gross] and Meredith [Baxter], who play Elise's mom and dad. I love 'Dan Vs. Canada' and 'Dan vs. The Wolf-Man.'"
Dan Vs. is not Paget's first foray into voice acting - it's something she's been doing for more than a decade, at the same time she's been on-screen in series like Criminal Minds, Huff, and Andy Richter Controls the Universe. "I started doing Godzilla," she explained. "I got the part of Audrey Timmonds. There was an animated series on FOX and it was Kevin Dunn, Joey Pantoliano and myself. There were nine or ten of us and we recorded in the room together, all of us, which I haven't seen since."
"A lot of the stuff I've done in animation has been because I did a sitcom or a pilot, and the writers moved into animation and would ask me to come and do a voice," she added. "It's a really hard business to break into."
Paget has been a wonderful presence on the small screen in a variety of roles, whether it's been endearing herself to Criminal Minds fans as Prentiss or making us laugh as the beleaguered boss Jessica on Andy Richter Controls the Universe. For now, though, her fans can get their fix by checking out Dan Vs., or even catching her on stage.
"I've done a show at the Largo Theater called The Thrilling Adventure Hour. We read like radio teleplays. It's a send-up of radio dramas from the 30's and 40's," she explained. "We just did a Kickstarter for that so that we can do a web series and a concert film. I guess the podcasts are doing really well. It's crazy. People from all over the world have sent us like, art with people envisioning the characters that we're playing." For more information on The Thrilling Adventure Hour, including how to get tickets, check out the show's website.
As for her return to live-action television, "I haven't really seen anything that I want to do yet," she said. "There's great stuff out there, but I prefer doing a TV show, going to work every day with the same people, and a lot of stuff is not being shot in Los Angeles and I don't really want to do that because my loved ones are here." But never fear, she's still on TV - just in animated form, wielding a big gun and going by the codename 'Dancing Shadow.'
Dan Vs. premieres today at 4 PM ET/1 PM PT. You can check out a clip from the season premiere, "Dan Vs. Anger Management," below. You can also keep up with Paget on Twitter (@pagetpaget).
For more from Brittany Frederick, visit Digital Airwaves and follow me on Twitter (@tvbrittanyf).
(c)2012 Brittany Frederick/Digital Airwaves. Appears at Starpulse with permission. All rights reserved. No reproduction permitted.