Cressida Confidential: Cressida Shows Sophisticated Side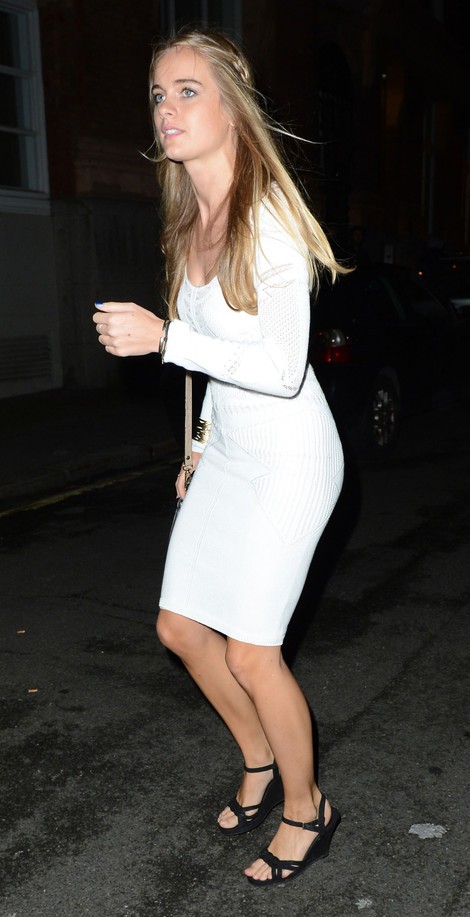 Cressida Bonas is showing Prince Harry that there is more to her than the scruffy "Shey-Boo" bohemian Sloane Square socialite that made her initial debut as his official girlfriend. Since the first time she was noticed Cressida has continued to polish her image from scruffy bon-vivant social sloane ranger butterfly to increasingly sleek regal socialite among the titled London social set. The spirited young blonde has always enjoyed a jet setting lifestyle, but since her relationship with Prince Harry has kicked into high gear, the pretty blonde has shown a far more worldly side to her that has startled formerly patronizing critics who thought that the twenty-five year old blonde was too school girlish to handle being at the side of Britain's most eligible bachelor.
Harry has however been able to claim Richard Branson as an avuncular family friend and as a result, Cressida and Harry came to know each other through the family tie of Isabella Branson, (nee Anstruther-Gough-Calthorpe) who is married to Sir Richard Branson's son Sam Branson. Isabella is Cressida's half sister who is also the one young lady who could make sure Prince William forgot all about Kate (now Duchess Catherine) and has been legend in her ability to make Kate nervous about her secure footing in her relationship with Prince William. Sir Richard has been a family friend since before Princess Diana and it is believed that Cressida's family ties with Sir Richard have been responsible for Harry securing all the sponsorships he needs for his charity treks.
Cressida has been enjoying a taste of the international scene at an elevated level and has taken to it with a panache that has startled the often-complacent peers of the young prince. Titled courtiers have noticed that Cressida has rapidly adapted to the expectations placed on her, one of them being a well-groomed appearance. She still wears her trademark scrunchie hair ties and likes to dress casual in day-to-day wear, but she has improved dramatically since becoming noticed by the world media. She reminds royal watchers of the late Diana, Princess of Wales of how the late princess dressed down for routine day-to-day activities, but ended up astounding the world press and fashion industry, while causing a craze among her fans as she (Diana) evolved from borderline dumpy to flawlessly dazzling fashionista.
She's shown up at weddings wearing lovely headbands decorated with flowers and has begun to wear stylish fur collars and lovely elegant floor length dresses. She isn't stinting her enjoyment of becoming more visible; clearly taking note of the comments left by fashion experts and has certainly made it a point to make her attire more presentable socially when at events that require a smart well put together appearance. As a show of confidence, Prince Harry has asked Cressida to co-host a dinner being held for the members of his team that made the now famous trek to the South Pole and were successful and making it before Christmas Day, as planned. Cressida showed off her sleek style at the Boodles Boxing Ball (during which time the couple still kept things discreet) and wowed royal watchers.
Known worldwide as a fashion icon and modern trendsetter, Duchess Catherine has been providing the former unfashionable ugly duckling with advice, but Cressida has shocked the royal set by not just taking advice, but taking control of her preferences and making it happen on a massive scale. Prince Harry is legendary in his worldliness, having since a child been part of the international jet set, from rides through the African tribal wilderness and his more fun jaunts to Necker Island as a child and his preferences for ski trips to Klosters where he goes to burn off his famous charmingly excessive energy. It wasn't known really if Cressida would be able to keep up, but she's shown a singular determination to retain her identity through her fashion choices, not just end up trying to prove her worthiness through almost a desperate conformity (as Duchess Catherine was accused of) and has evaded accusations of enjoying free fashions from designers that enjoy added exposure from having someone connected to the most famous royal family in the world (Duchess Catherine's attachment to Issa is now part of fashion history).