Cressida Confidential - Cressida Bonas Is Granted Security Clearance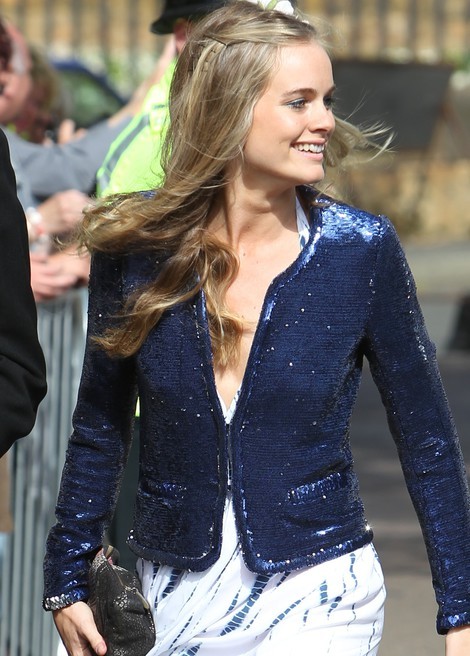 Cressida Bonas is certainly moving up in the affections of Prince Harry and has gained access to Kensington Palace in her own right. She has been granted security clearance and now spends so much time at the royal palace that it's becoming viewed as inevitable that she will likely marry her prince. This is an unprecedented honor for royal girlfriends (even the now Duchess Kate had to go through security as girlfriend) and it's likely that the pretty twenty-five year old (her birthday was last week) has been seen at his apartments and enjoyed free rein and enjoys running around the gardens of Kensington Palace.
She's been seen almost every night and spent a thrifty, but romantic Valentine's Day with Prince Harry, enjoying a dinner picked up from the frozen foods section of Marks & Spencers and it's a sign that the engagement announcement could be imminent. This is a sure, certain sign to royal watchers that the prince is eager to marry his girlfriend of the past couple of years and certainly means that Cressida has found complete approval of Her Majesty in regards to her suitability. The pretty blonde socialite has been an insider since birth and it's viewed as all but confirmed that she will likely be on Harry's arm as he announces his betrothal to the world.
Being given such clearance is unprecedented. Even Diana, Princess of Wales and Sarah, Duchess of York as girlfriends were required to go through security each time they visited and neither was allowed to be left alone in the private residences of the princes that they were dating. As Cressida moves up in royal favor, this most recent privilege means that an engagement will likely be all but inevitable. As the pretty blonde (who bears a resemblance to the late Princess of Wales) is moved into royal circles, the courtiers and members of the royal family have worked hard to ease her fears of the inevitable demands that will be made on anyone who moves into the royal way of life.