Cream's 2005 Reunion Concert To Be Released On Blu-ray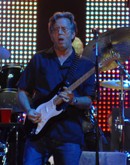 Cream's triumphant reunion concert at London's Royal Albert Hall in 2005 is to be released on Blu-ray.

The concert was the trio's first in almost 40 years and led to a string of shows in New York before Eric Clapton, Ginger Baker and Jack Bruce went their separate ways again.

The new concert movie, released via Eagle Rock Entertainment in October, will feature 19 tracks recorded in Dolby Digital 5.1/DTS-HD Master Audio and high definition and rare interviews with the bandmates.