Cream Concert Film Offers Hope For Another Reunion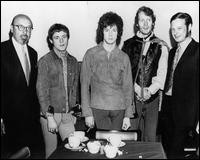 Cream fans have been left hopeful of another group reunion after checking out the interviews collected for a new DVD and Blu-Ray concert movie recalling the trio's 2005 concerts in London.

Eric Clapton, Ginger Baker and Jack Bruce talk fondly about the get together in the chats recorded just after the band's week-long slate of shows at the Royal Albert Hall - and the threesome appears keen to do it all again.

Cream did follow the London shows with concerts in New York the following year but the group was disbanded shortly afterwards amid reports of a bust-up between Bruce and Baker - and the bassist has since ruled out another get together, stating: "Cream is over."

But the new Cream: Royal Albert Hall concert film suggests the trio thoroughly enjoyed their four-night residency in London.

Drummer Baker admits he was initially reluctant to return to the stage with his bandmates, but explains, "Eric phoned me up and convinced me to do it and I'm very glad he did because I was a bit wary about it... and I was more than pleasantly surprised (with the gigs)... I didn't think it would ever happen and I'm very glad that it did... "It was like we'd been on holiday for a couple of weeks, not 37 years."

And frontman Clapton admits the concerts were high-energy affairs that he'd love to repeat, even though there was "a little bit of pressure" and "one little skirmish" as the trio rehearsed for the London shows.

In his interview filmed exclusively for the DVD, he states, "When we first walked on (stage) on the Monday night, I think it took our breath away how much anticipation (there was) and what a welcome we got. It was incredible... It made me wanna get it really right.

"Doing the first week (of rehearsals) there was a little bit of pressure and we had one little skirmish, but after that it was great. I think we all realised we were very lucky to be able to do this.

"And when we got through that week (of shows)... I just went home... and I crashed. I thought, 'That's it... We pulled it off.' It was a great achievement."

Asked if he'd do it all again, Clapton adds, "I think it would be crazy not to... as long as we can. I found it really good for me to have to stretch that much... I think we ought to."