Craziest Athletes Of All Time

Remember when athletes were just outrageous? They would say outlandish things like when
Charles Barkley
said, "Man, everything gets blamed on the Clintons, every single thing in this world. I think
Bill Clinton
shot JFK, too." And they would do outrageous things like when Deion Sanders decided to create an
MC Hammer
-like persona called "Prime Time" and wear pimp suits and flashy jewelry. These days athletes are beyond outrageous, they're cuckoo. From shooting themselves at night clubs with their own guns to assaulting their TV personality girlfriends, today's athletes are just crazy. Here's a list of crazy athletes of not only today, but all-time:
Former NBA player Stephon Marbury has lost his marbles and has gone completely crazy. Viewers witnessed how crazy Marbury has become when he broadcasted a 24 hour live stream of himself sharing his rants and opinions on manicures, healthcare reform, the New York Knicks, and why he wouldn't perform oral sex on a man for a $1 million dollars. But the most bizarre thing that Marbury did on his Live Cast was eat Vaseline to cure his sore throat. Stephon didn't become crazy overnight, he's been out of his mind for awhile now. A few years ago he threatened to blackmail his coach for taking him out of the starting lineup and wanted team PA announcers to introduce him as "Starbury" when he played for the New Jersey Nets. Many people consider Stephon to be one of the greatest players to come out of New York City, while others consider him to be the craziest player to come out of NYC.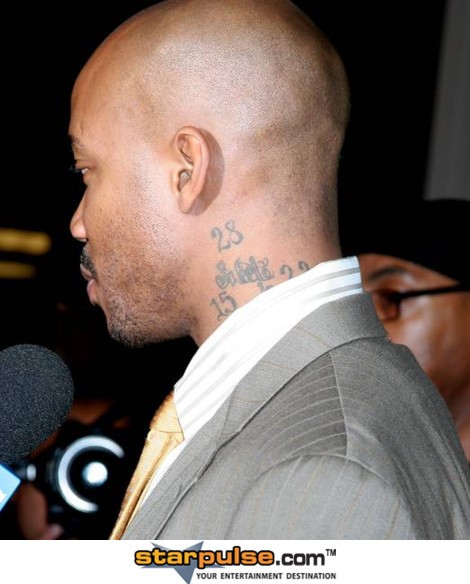 Image © Janet Mayer / Photorazzi
T.O. is more than a showman, he's a nut case. He's been kicked off his last two teams because of his selfishness and conflicts with teammates and coaches. He's had some of the most bizarre moments like being hospitalized for a pain medication overdose, crying after a playoff loss to the New York Giants, and running on the field in a revealing body suit before a game. But it doesn't end there. Owens spit in an opposing players face after a play, and accused one of his former teammates of being gay. Off the field, he spends $100,000 on earrings. That's right, $100,000. You have to be really crazy to be spending that much money on earrings. Terrell Owens is that crazy!
Ron Artest
This new LA Laker is notorious for his crazy behavior and personality. Even though Artest comes off as a nice guy when he's being interviewed, he's anything but. Let's not forget that this is the same guy who instigated a brawl while as a member of the Indiana Pacers. In that infamous Pistons-Pacers brawl, he proceeded to go into the stands and assault fans. Artest is also the same guy who was suspended for asking his coach for a month off from the game because of fatigue from promoting an R&B album. And let's not forget that Ron applied for a Circuit City job during his rookie year just to get an employee's discount. Recently, Ron dedicated a song to Michael Jackson with the lines, "I know you in heaven, I hope to see you next year." Next year? Craaazzzy.
John Rocker
Racist, Homophobic, Sexist, Bigot. Those are just some of the words to describe former baseball pitcher John Rocker. Rocker is famous for making derogatory statements about every group there is in the United States. Almost a decade ago in a Sports Illustrated article, Rocker made racist, homophobic, and sexist comments when he described his visit to New York City. After his comments were released, he was viewed as public enemy No.1 by New Yorkers and the sports media. Although he later apologized for his comments, John continues to display insensitive behavior such as starting a "Speak English" campaign against foreigners and defending Chicago White Sox manager Ozzie Guillén after Guillén made a homophobic remark about a reporter. Someone needs to beat some sense out of John Rocker because he clearly has none.
Tonya Harding
Tonya Harding will always be remembered for her role in the Nancy Kerrigan attack during the 1994 U.S. Figure Skating Championships. Harding, the mastermind behind the attack, later claimed that she was going to call the FBI to tell them what she knew, but her ex-husband threatened to kill her if she did. After being banned for life from professionally skating, Harding has had a long list of run-ins with the law. These run-ins range from being abducted by strangers to assaulting boyfriends. These incidents lead police to question her sanity. Harding will always be a psycho and pathological liar.
"He's just different." That's what people always said about Dennis Rodman. Looking back, people should've said, "He's just crazy." Dennis was the first NBA player to have dyed hair, tattoos and earrings all over his body. But that's not what made him crazy. His on-court antics like head butting players and referees, and kicking a cameraman in the groin are what made him crazy. His behavior off the court was just as strange. There was that one time when he wore a wedding dress to promote his autobiography. And he married
Carmen Electra
while he was intoxicated. Dennis is not different, he's crazy!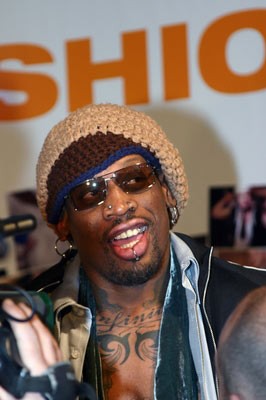 Image © Janet Mayer / Photorazzi
Mike Tyson is humble now that he's older and can't fight anymore. But a few years ago Tyson was considered to be a loose canon. He's one of the greatest knock-out artists of all-time, but he's also the craziest athlete of all-time. Remember when he bit off a piece of Evander Holyfield's ear. Or when he tried to break another boxer's arm after a tie-up. Let's not forget that time when he said he wanted to eat Lennox Lewis's heart and children. Tyson's sanity was further questioned when he admitted to taking Zoloft to keep him from killing the media. Tyson is the definition of crazy. If you look up the word "crazy" in the dictionary, you'll see Tyson's picture with that huge unfinished tattoo on his face.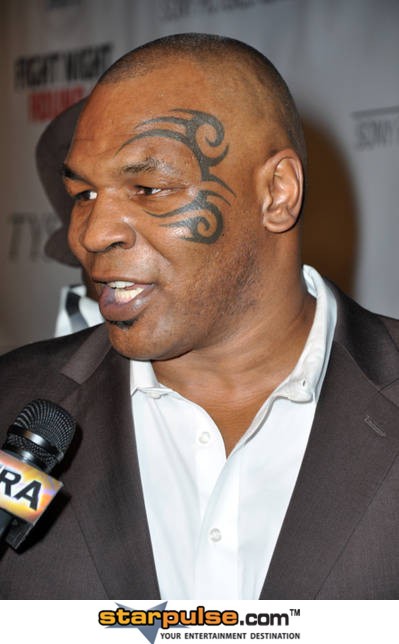 Image © Andy Mechammil / PR Photos
Story by
Maccorley Mathieu
Starpulse contributing writer