Cracker To Release 'Best Of' Album And First Ever DVD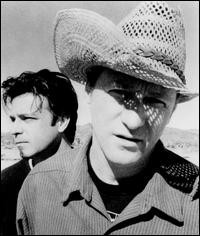 Virgin Records/EMI Music Catalog Marketing is proud to announce a pair of audio and video releases from alternative rock pioneers
Cracker
. The CD and DVD packages, both titled "Get On With It: The Best Of Cracker," contain the definitive original versions of the band's early-'90s classics "Low," "Get Off This" and the #1 Modern Rock anthem "Teen Angst (What the World Needs Now)." Hitting stores on February 21, the 15-track CD and 16-track DVD were produced in collaboration with the band and include fan favorites as well as deeper album cuts for the Cracker connoisseur. The new DVD, the band's first home video release, includes Cracker's music videos, with two never-before-seen video edits and a previously unreleased concert, filmed in 1993 at Denver's Ogden Theatre.
Cracker frontman
David Lowery
broke onto the music scene with alternative outfit
Camper Van Beethoven
in the 1980s. Although CVB split in 1990, Lowery had honed his musical tastes and made a very positive impression on the music industry. His next group, Cracker, was quickly signed to Virgin Records. Lowery teamed with
John Hickman
(guitar) and Dave Faragher (bass) and together they launched a highly successful career blending their country roots with a modern alt-rock sound. The final Cracker line-up kept Lowery and Hickman, and added to the mix Kenny Margolis (keyboards, percussion), Frank Funaro (drums) and Victor Krummenacher (bass, vocals). The result was five highly popular albums for Virgin Records, including their self-titled 1992 debut, which featured the #1 Modern Rock anthem "Teen Angst (What The World Needs Now)" and 1993's Gold-certified Kerosene Hat, which contained the radio mega-hit "Low" and critic-favorite "Euro-Trash Girl."
The group continued to record albums and tour through the 1990s, and also found time to collaborate with other artists including
Joan Osbourne
and
Sparklehorse
. In addition to the band's extracurricular musical pursuits, David Lowery also appeared in two independent films,
River Red
and
This Space Between Us
. These varied pursuits led to Cracker's 2002 album, Forever, which produced the song "Guarded By Monkeys," a tune that highlights the band's more matured eclectic sound. "Get On With It: The Best Of Cracker" covers the range of Cracker's rock recording career, and is a must-have for any fan of the band.
Cracker actively toured the U.S. in 2005, both as themselves and as a refashioned Camper Van Beethoven. The band will continue to tour in 2006.
Get On With It: The Best Of Cracker (CD)
1. Teen Angst (What The World Needs Now) (#1 Modern Rock)
2. This Is Cracker Soul
3. Mr. Wrong
4. Low
5. Get Off This
6. Lonesome Johnny Blues
7. Euro-Trash Girl
8. Shake Some Action
9. I Hate My Generation
10. Big Dipper
11. Sweet Thistle Pie
12. The World Is Mine
13. The Good Life
14. Shine
15. Guarded By Monkeys
Get On With It: The Best Of Cracker (DVD)
1. Teen Angst* (What The World Needs Now) [acoustic singalong
2. Teen Angst (What The World Needs Now)
3. Get Off This [live on MTV's "120 Minutes"]
4. Low
5. Low* (Homebody version)
6. Euro-Trash Girl
7. I Hate My Generation
BONUS: The 1993 concert, filmed at Denver's Ogden Theatre
8. I See The Light* [live]
9. Movie Star* [live]
10. Mr. Wrong* [live]
11. Let's Go For A Ride* [live]
12. Teen Angst (What The World Needs Now)* [live]
13. Low* [live]
14. Euro-Trash Girl* [live]
15. Lonesome Johnny Blues* [live]
16. This Is Cracker Soul* [live]
*Previously Unreleased