Courtney Stodden Wears A Stripper-Like Outfit During A Night Out In Hollywood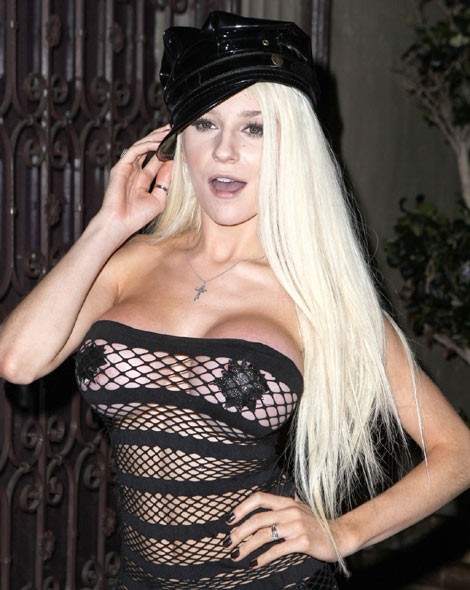 We spotted model/actress Courtney Stodden making a spectacle of herself at Bar Sinister in Hollywood celebrating her friend Plastic Martyr's birthday last night by parading around in an extremely racy outfit.
The 18-year-old was out on the town with her husband Doug Hutchinson, 53, and looked more like a stripper than a teenager. She wore a mesh bodysuit with just a thong and pasties to cover up her lady parts.
Stodden recently got her breasts enlarged to "feel more like a woman." She told E! Online: "I just went and got my breasts to a double D and I feel very confident."
Stodden catapulted to fame after she married Huchinson when she was only 16. The actor was criticized for hooking up with the teenager.  The couple appeared in the second of VH1's reality show "Couples Therapy," and the program's therapist defended the actor, saying he wasn't a sexual predator.
Check out more photos of Courtney...