Courtney Stodden Introduces Her Long-Lost Sister 'Courtina'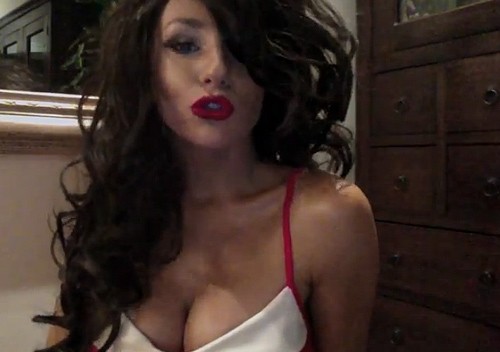 Courtney Stodden posted a bizarre new video to her YouTube page this week, revealing that she's got a long lost sister (who speaks an unknown language) named Courtina.

Following in the footsteps the likes of Sasha Fierce, Mimi, Ziggy Stardust, and Slim Shady, Courtney revealed her own alter-ego this week with a post to her Twitter page.

"Meet my sister Courtina," she wrote, along with a link to YouTube and her new video.

"It's so sweet to be reunited with my long lost sister Courtina!" she exclaimed in the video's description.

The 18-year-old singer/model/actress/reality show star has been known for her self-promotion via social media; and now the wife of 52-year-old actor Doug Hutchison has donned a brown wig (she actually looks better as a brunette) and her usual lack of clothing, jiggling her cleavage back and forth across the screen as she reveals she "discovered" her long-lost sister in a magazine.

Check out the three-minute video below...