Courtney Stodden Dons PETA's Skimpy Lettuce Bikini To Promote Veggie Dogs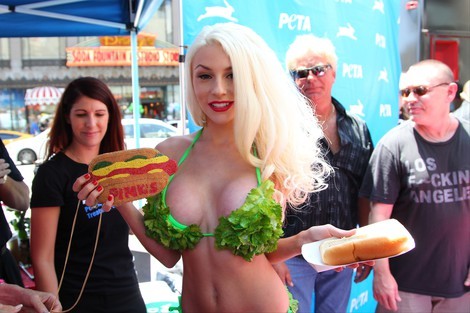 Courtney Stodden joined the ranks of Playboy Playmates Jayde Nicole and Jo Garcia when she wore a skimpy lettuce bikini to promote PETA and Pink's hot dog stand, which is serving meatless hot dogs.
PETA's Lettuce Ladies promote various events in the skimpy clothing, making out in public and wrestling in tofu (yes, we're serious).
"I am honored to be a spokeswoman for PETA and I love my animals so much," she told Pacific Coast News. "Also I would like to thank Pink's for making this veggie dog for us today. Also I love being in the green on such a beautiful day."
She also tweeted, "Had so much fun at @peta's Veggie Dog Giveaway event today. Honored to be apart [sic] of the fam & to spread awareness. #LettuceLady @pinkshotdogs"
It isn't the first time Stodden has supported the animal rights group. She filmed a PSA for PETA last year describing her life as a vegetarian.
Check out more photos of Courtney in her green bikini on the next pages.