Courtney Love Wants Pattinson & Johansson For Kurt Cobain Biopic

Courtney Love is eager to give the big screen story of her life a glamorous overhaul - she reportedly wants Scarlett Johansson and Robert Pattinson to play her and late husband Kurt Cobain in a planned biopic.
 
Speculation about a movie retelling of the Nirvana frontman's turbulent life has long been rife, but recent reports suggest The Messenger director Oren Moverman is in talks to helm the film, based on Charles R. Cross' 2001 book Heavier Than Heaven: A Biography of Kurt Cobain. And according to Britain's The Sun newspaper, Cobain's widow Love is acting as an adviser on the project for film studio Universal Pictures - and is considering signing up an eager Pattinson to portray the doomed rocker.

A source tells the publication, "This is a big money deal for Courtney. She has agreed to the film on condition that she gets to decide the main aspects of the project including director, casting, screenplay and music. Robert has been calling and emailing her non-stop... he is her number one choice to play Kurt."
 
And the Hole frontwoman has her sights set on another hot Hollywood star for the film - buxom blonde Johansson.
 
The source adds, "She is adamant Scarlett will play her. Scarlett is friendly with Frances Bean, her daughter with Kurt."

Cobain died from a gunshot wound to the head in an apparent suicide in 1994.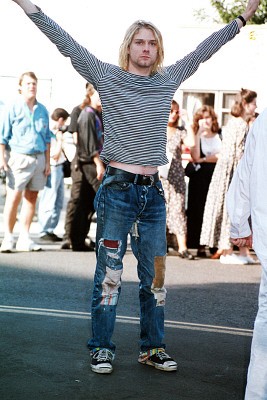 Click Here For More Courtney Love Pictures