Courtney Love Still Upset Over Vanity Fair Article

Courtney Love has taken aim at the journalist M.I.A. attacked last month for the 1992 Vanity Fair article she wrote which vilified her and husband Kurt Cobain and suggested they were unfit parents.

Now a New York Times columnist, Lynn Hirschberg hit the headlines herself in May when M.I.A. listed her direct phone number and criticised her in the lyrics of an online tune after the writer penned an unflattering profile piece about the hip-hop star.

And it wasn't the first time Hirschberg has upset a music star - Love has lashed out at her in a new Behind The Music special.

The journalist's famous Vanity Fair article caused a furor because she quoted Love stating she had taken heroin while pregnant with daughter Frances Bean.

Love says, "She tore my world apart, tore Kurt's world apart. It was horrible what she did."

The rocker insists she stopped taking drugs as soon as she discovered she was pregnant.

She fought back tears on the TV special, which debuted on Monday, when she recalled reading the Vanity Fair article for the first time.

She revealed, "I read it and, like, f--k me the earth changed and his (Cobain) earth changed. A lot of things killed him and that (article) killed him too."

The piece prompted child service officials in Los Angeles to intervene when the couple's baby was born prematurely weeks later - and declare little Frances Bean would be safer in foster care.

Love's former manager Janet Billig says, "(I was like) 'You're gonna read Vanity Fair and then come and take away this baby from loving parents that could actually take care of their child."

The rocker recalls, "That was suicidally horrible, that situation with Frances."

To avoid losing the child to foster care, Kurt and Courtney had to hand over guardianship of their daughter to Love's half-sister Jamiee (corr).

The sibling, now Jamiee King, recalls, "It was very difficult; they really loved that child."

Meanwhile Love and Cobain were forced to undergo regular drug testing and could not be left alone with Frances Bean.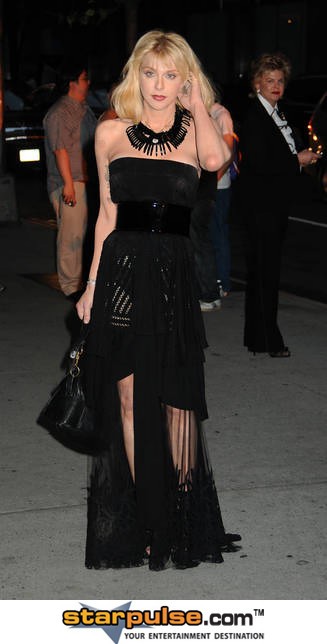 Click for more great Courtney Love pictures: