Courtney Love Pulls Hole Out Of Festival Down Under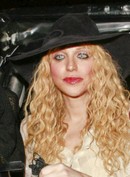 Courtney Love has axed Hole's slot at Australia's upcoming Soundwave music festival after she was left infuriated when promoters booked Limp Bizkit and placed the rockers above them in the line-up.

Hole were due to perform alongside Slipknot, System Of A Down and You Me At Six at the event next year, but after finding out their place on the bill, Love cancelled the show.

According to NME.com, Love sent a message to festival promoter A.J. Maddah, writing, "What bl**dy flight of crazed fancy made you think we'd open for Limp Bizkit dude? No offense, that's nuts."

However, Maddah hit back at the singer on Twitter.com to vent his anger at her cancellation, writing: "Like we were going to ask her (Courtney Love) permission every time we book a band. No point taking her back, only for her to cancel later, or turn up and act like a rotten t**t to other artists and fans."

"Tbh (to be honest) I am really mad about this. I was given so many assurances that this would not happen when I took the booking."