Courteney Cox Plans To Show Her Boobs More On 'Cougar Town' Now That It's On TBS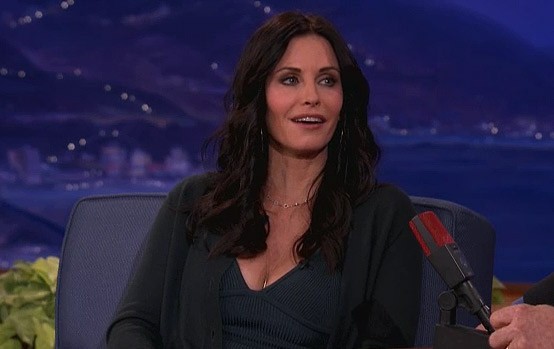 Courteney Cox's hit show Cougar Town has officially made the jump from ABC to TBS, and the actress spent a little time with Conan O'Brien on Monday night to promote the show.

The host, whose own show, Conan, made the move to the network three years ago, welcomed Courteney to the network, asking her if she'll be doing anything different on her show now that it's on a cable network.

"I feel like we could be a little racier..." she says. "...I was actually wearing my shirts lower because I felt like, 'now I'm on cable -- I should just show more boobs.'"

But in actuality, Courteney explained that her character is newly married and she felt the need for her character, Jules, to spice things up a little and "keep her marriage alive."

The star and host then go on to discuss her breasts even further, with Cox explaining that as she gets older the focus seems to be shifting from her face to her chest.

"You know what? I'm getting older, so I've decided at this point I'm taking less focus [on] the face, and focusing here," she said on Friday at the Television Critics Association winter tour, according to Access HOllywood. "By the time I'm much older, I will just be absolutely nude. I think it's [going to] work for me, I hope."

Courteney also says that the crew of the show is getting tired of seeing her cleavage all the time.

"When you wear low-cut tops enough literally the crew is like, 'oh, God... have to see those again,'" she says, which Conan then hotly debates.

Cougar Town makes its debut on TBS tonight.