Courteney Cox On The Return Of 'Cougar Town,' Jennifer Aniston's Memory And Cool Music She Loves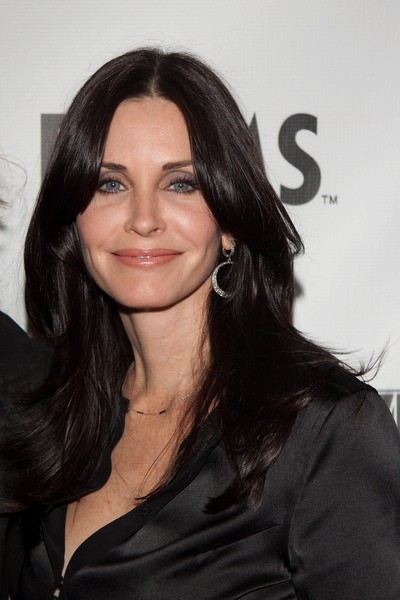 Courteney Cox said she gave me the longest interview she's ever done. At nine and a half minutes, I think she may be right. I've never seen her sit down with reporters for extended times. Now that Cougar Town is back, she's been spending a lot more time talking about the show.
Cougar Town creator Bill Lawrence has been holding events for fans where they could meet the stars of the show. The third season had not had an airdate for much of the year so he's been rallying the troops to get back on the air. Cox mingled with reporters of the Television Critics Association so they could write about bringing the show back. It must have worked because Cougar Town returns Tuesdays at 8:30 on ABC.
Q: Have you enjoyed doing all the fan events?
Courteney Cox: Yeah, you know I haven't done that many. I only did LA and I'm going to go to Vegas in a couple of weeks. I actually want to go to Austin because I have a friend that lives there but I love it. I think it's really smart. Bill's just so smart about stuff. We need people to remember that we are coming back because we have been gone for a while.
Q: Could you have imagined the TV landscape, that there could be grass roots events with the fans, when you were doing Friends?
CC: Oh, I don't know how we would have done that. That's a different ball game.
Q: What can you tell us about the new season of Cougar Town?
CC:  Oh, it's great. It's really funny, it's smart. We started off with an episode that Bill wrote and directed. Grayson asks me to marry him, in the first episode. So that really starts it off with a bang. It dispels any thoughts that maybe this show is about me dating younger guys. It is not. The way he asks me is sweet and creative and wonderful. It's great and every episode past that is just awesome.
Q: Are you still having fun with it then?
CC: I am.
Q: How much work is involved? We hear that when you do a show with a weekly output it is hard work. How much of it is hard work and how much of it is fun?
CC: You know every job is hard. I mean it's not hard, you just go to work. The hours, sometimes it's hard to get up at five in the morning but that's the hardest part of it. I love what I do. I knew that doing a show, there's was always going to be somewhat hard but when I started Cougar Town, Bill always said to me, "After the first seven episodes you won't be in every scene." And he is exactly right. He has this down to a formula. He knows what he is doing and he knew it was going to be an ensemble cast, he would introduce the other characters through me and then everyone else would have their own story line. I feel really blessed. I love this job. I think it is such a great show, so well written and it is so similar to my personality. I love each week because I see things that happened in my personal life and Bill might put it in there and it makes me laugh.
Q: Do you have a sense where ABC is leaning or what it will take to get them to commit to another season?
CC: I think it is just ratings. I imagine we will know after about two or three weeks after it airs.
Q: Is that nerve-wrecking to await those two or three episodes?
CC:  It is because we are three years in so I feel that if it works I feel like we will probably do seasons four and five, and then if it doesn't work then we are done. So it is like this is make or break time.
Q: Have you gotten better at Penny Can?
CC: No!
Q: Do you guys have to do rehearsals for the scenes where it is coming up?
CC: No we just shoot it so my penny goes out and they put another one in. I am the worst Penny Can player in the history of time. I can't throw anything by the way.