Courteney Cox & Neve Campbell Get Terrorized By An Unlikely Intruder In 'Scream' (Video)

Courteney Cox, Neve Campbell and Kelly Rutherford all get terrorized by an unlikely force in the latest Scream, and who is it behind the scary mask this time? You'll have to watch and see!

We recently caught up with the stars of the first three films in the series, and they discussed what filming the latest in the series, Scre4m, was like.

"It's been 15 years now we've been doing these characters," says Neve Campbell, reprising her role as Sidney Prescott; "so [this one was] not difficult to jump into.

"I had fun watching the films again before we started this just to get a sense of it and it was really nice to see that they still held up really well, but no. It wasn't difficult to get into characters. With Sidney, it's just imagining her circumstances and doing it."

David Arquette notes the change in film technology and how it applies to the latest installment - ten years after Scream 3.

"There's been ten years in-between with different horror films and technology changes. It's just really exciting," he says.

He's also excited about the new cast joining them - names like Hayden Panettiere, Kristen Bell, Emma Roberts and Adam Brody.

"I think with the new cast coming to this, it was really interesting to see because they're reflections of us when we first got there. It really brings an electricity that I felt on the first film with this, and I think that people with that generation who are going to discover the old stuff."

Check out the full interview with the stars of Scre4m right here!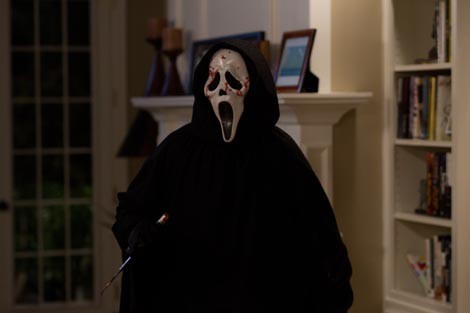 Click for more great Courteney Cox pictures: