Country Music Stars Raise $150,000 For Domestic Violence Charity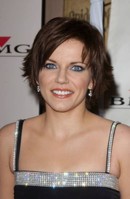 Country stars including Keith Urban and Martina McBride have helped raise more than $150,000 for a domestic violence charity in Nashville, Tennessee.

The musicians offered up personal prizes as part of a celebrity auction to benefit the city's Young Women's Christian Association (YWCA) organization, which helps women leave abusive households.

A dress belonging to McBride attracted a top bid of $27,000 and she helped raise a further $17,500 by offering to take a fan on a personal tour of recording studio owned by her husband John, as well as selling an outfit worn in her Teenage Daughters video.
 
An autographed Garth Brooks guitar went for $10,000, while a guitar used by Urban raised $4,000.

All of the lots in the auction on Sunday raised a combined total of more than $150,000 and McBride is delighted with the result of the sales.

She tells CMT.com, "I am always amazed at the big hearts of country music fans. Even in these tough economic times, they realize there is a need to help these women and children who have taken the first step toward getting out of a bad situation and are starting their life over. Their compassion and generosity inspires me."