Country Legend Ray Price Dies At 87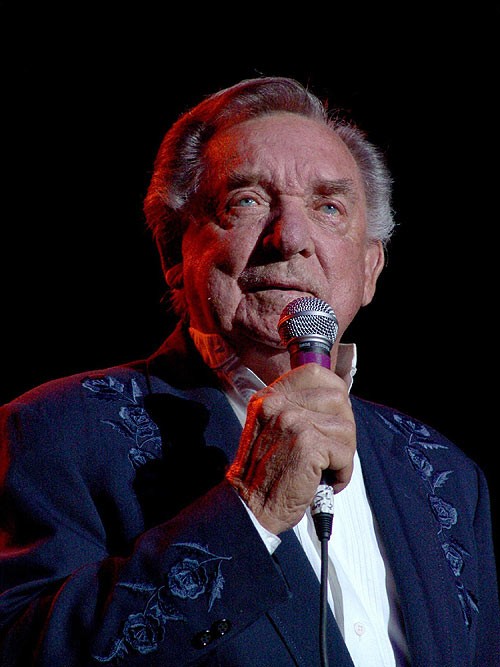 Country star Ray Price passed away on Monday after a lengthy battle with pancreatic cancer. The news comes a day after news sources prematurely reported his death on Sunday after his son Clifton left a message that he'd said his last goodbye to his father, whose death was imminent.

The singer died at his Mt. Pleasant, Texas, ranch, where he lived out his final weeks, surrounded by his family.

Price's wife Janie confirmed the news to veteran country radio deejay Bill Mack, who shared the news on his facebook page.

"Ray Price left for heaven at 4:43 PM Central Time," Mack wrote. "He went in perfect peace."

The 87-year-old country star announced that he was battling pancreatic cancer in November 2012 after being diagnosed in 2011. Earlier this year the diseased looked to have gone into remission, but in May he was hospitalized again for dehydration. Last week a rep for Price shared news that the cancer had spread into his liver, intestines and lungs.

He recently penned a farewell letter to his fans.

"I love my fans and have devoted my life to reaching out to them," he wrote. "I appreciate their support all these years and I hope I haven't let them down. I am at peace. I love Jesus. I'm going to be just fine. Don't worry about me. I'll see you again one day."

Price's career began in the 1950s after brief enrollment in the Marines. He won two Grammys and was inducted into the Country Music Hall of Fame in 1996.

His final album is due for release sometime in 2014.

Over the weekend Clifton Price wrote on facebook that he had gone to say his final goodye to his dad, which several news agencies construed as news of Price's death.

"Dear Friends, I have said my last goodbye to my Dad Mr. Ray Price. I drove to the ranch where I was allowed to see my Dad for a brief time," Clifton wrote on a fan page dedicated to his dad on Facebook. "My Dad is in a coma and I believe he may pass at any time. I told him I loved Him and I think he tried to communicate that he loved me. God Bless my Dad."

Following the news of his death over the weekend, Janie told Rolling Stone magazine that, "He is still with us. It's been an honor to walk this road with him. It's a sad day. We are losing a great man."

Clifton cleared up his comments and called out the media for reporting his father's death prematurely.

"I understand my Dad is still alive but barely hanging on," he added.

Price's death caps a long weekend of celebrity passings with the deaths of actor Peter O'Toole, actress Joan Fontaine and actor Tom Laughlin.