Countdown to 'The Voice': Where Are Season 2's Finalists Now?
A new season of NBC's The Voice is only one week away. As you prepare to meet the artists of Season 3, Big Red Chairs is looking back at the singers who captured your attention in Season 2 earlier this year.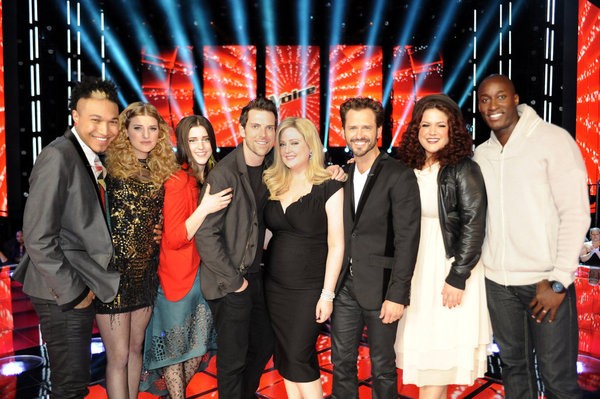 Season 2 was won by Blake Shelton's finalist, Jermaine Paul. The runner-up was Team Cee Lo's Juliet Simms, followed by Team Adam's Tony Lucca in third place, and Team Christina's Chris Mann coming in fourth. But what's happened to them in the just under four months since we last saw them?
Winner Jermaine Paul was signed to a record deal with Universal Republic Records, through which he released his first post-show single, a cover of "Butterfly Kisses". He also announced plans to open a music school and is at work on his post-show album.
Runner-up Juliet Simms is also hard at work recording, and has made several tour appearances since the end of the show, including an appearance with fellow finalists Chris Mann and Tony Lucca at The Grove Los Angeles. You can read more about that here.
Team Adam's Tony Lucca is embarking upon his "Chapter Two" tour that will see him play all across the country this fall. At certain stops, he will be joined by fellow Voice alumni including Justin Hopkins, Jordis Unga and Chris Cauley. Tony spoke with me recently about future plans and addressed the lack of an official Voice concert tour in this interview.
Chris Mann was also signed by Universal Republic under their Faircraft imprint, and is recording not one but two albums for release in October, one of them a Christmas record. Chris has made numerous public appearances, including at The Grove, at a Los Angeles Dodgers game, and even returning to The Voice during the taping of Season 3's battle rounds. Find out more about his record deal here.
As noted above, Season 2's Top 8 did not embark on The Voice Live on Tour like the finalists from Season 1. No official explanation was given for the lack of a tour (in fact, the tour was never even mentioned during the season), but it's assumed that it was called off due to low ticket sales from the previous time around. (That didn't stop a good dozen of Season 2's artists from hosting their own post-show "After Party" in May 2012.)
For a further look back at Season 2, including follow-up interviews with several contestants including Jamar Rogers, Tony Vincent, and Katrina Parker, and information on what happened to several other artists, click over to the season in review post at Big Red Chairs.
The Voice returns September 10 at 8 PM ET/PT on NBC.
For more from Brittany Frederick, visit my Starpulse writer page and follow me on Twitter (@tvbrittanyf).
(c)2012 Brittany Frederick/Digital Airwaves. Appears at Starpulse with permission. All rights reserved. No reproduction permitted.