Countdown to 'The Voice': Where Are Season 1's Finalists Now?
A new season of NBC's The Voice is only two weeks away. As you prepare to meet the artists of Season 3, Big Red Chairs is looking back at the singers who started it all in the show's first season, back before it was an Emmy-nominated smash hit.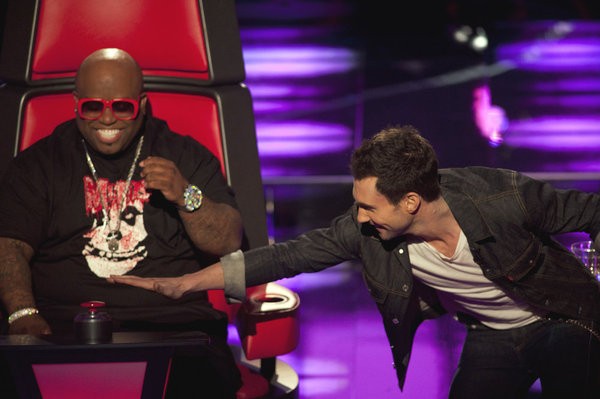 The Voice premiered in April 2011 with coaches Adam Levine, Blake Shelton, Cee Lo Green and Christina Aguilera mentoring teams of eight vocalists each in a bid to find "The Voice." The catch: they selected these eight artists from blind auditions, making their choices solely on what they heard by pressing a big red button (as above with Green, left, and Levine). The show also benefited from having a panel of coaches who were currently working artists, including three who had each won multiple Grammy awards in Levine, Green and Aguilera.
Season one was won by Levine's finalist, Javier Colon. The runner-up was Shelton's finalist, Dia Frampton, and the other two finalists were Beverly McClellan (for Team Christina) and Vicci Martinez (for Team Cee Lo). What happened to the first group of finalists after they left the series?
As part of his prize for winning, Javier Colon was signed by Universal Republic Records, through which he released his album Come Through For You. Levine appeared as a guest vocalist on the album, with the track "Stand Up." Though Colon was grateful for the added exposure victory brought him, he expressed concern over a lack of support for the album and parted ways with Universal Republic in June 2012.
He toured with the top eight vocalists from The Voice immediately after the season for "The Voice Live on Tour," and embarked upon a cross-country solo tour as well. He has opened for Levine and Maroon 5 previously, and is opening for them on their current South American tour.
Dia Frampton was also signed by Universal Republic and released the album Red, on which Blake Shelton appears on the track "I Will." She toured with Shelton on his "Well Lit and Amplified Tour" in 2011, and went on to share the stage with other acts including Scars on 45 and Team Blake semi-finalist Xenia. Xenia was also signed to a deal by Universal and released the EP Sing You Home.
Beverly McClellan was the one finalist whose option was not picked up by Universal Republic, but that didn't stop her in the slightest. She released the album Fear Nothing and has toured across the country since its debut last year.
Vicci Martinez landed a record deal with Universal Republic, and was the last finalist to release a full-length album with the arrival of Vicci earlier this year. The album's first single, "Come Along," featured guest vocals from her coach, Green. She has toured since, including several recent West Coast dates with Jamar Rogers, who was a member of Team Cee Lo during season two of The Voice.
For a further look back at Season 1, including follow-up interviews with each of the finalists and information of what happened to several other artists, click over to the season in review post at Big Red Chairs.
The Voice returns September 10 at 8 PM ET/PT on NBC.
For more from Brittany Frederick, visit my Starpulse writer page and follow me on Twitter (@tvbrittanyf).
(c)2012 Brittany Frederick/Digital Airwaves. Appears at Starpulse with permission. All rights reserved. No reproduction permitted.