Could Mark Wahlberg's 'Ted' Take The Top Spot At The Weekend Box Office?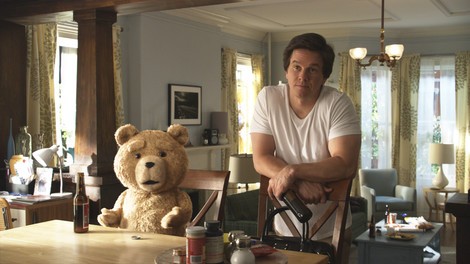 Pixar's "Brave" opened strong last weekend with $66.3 million in ticket sales, and opinion is divided as to how much it will earn this weekend, according to the Hollywood Reporter.
If the animated film earns 50 percent less, $33 million, the comedy "Ted" could usurp the top spot.  The film, by "Family Guy" creator Seth MacFarlane, centers on a man (Mark Wahlberg) who wrestles with the lingering consequences of a childhood wish - making a teddy bear come to life.
Also opening this weekend is the highly buzzed about stripper film "Magic Mike," starring Channing Tatum, Matthew McConaughey, Alex Pettyfer and Joe Manganiello.  Warner Bros. predicts $15-20 million for the film. Pre-order ticket sales have been dominated by women, of course.
Tyler Perry's "Madea's Witness Protection" and "Adult Drama" starring Olivia Wilde and Chris Pine are also making their theatrical debuts.
These films are getting a head start on the July 4th holiday rush.  "The Amazing Spider-Man" opens on Wednesday and is expected to crush the competition.