Costume Designer Creates 'Girl With The Dragon Tattoo' Line For H&M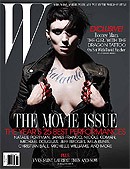 Costume designer "Trish Summerville" has teamed up with high street clothing chain H&M in an effort to dress young women just like The Girl With the Dragon Tattoo character Lisbeth Salander.

Summerville created actress Rooney Mara's wardrobe for David Fincher's much-anticipated new film and now her designs are being made available for fans of Mara's bondage-gothic look.

The new H&M line, which will hit stores in November and December, features 30 items inspired by abused computer hacker Salander's look.

Summerville says, "We took her basic pieces that we used throughout the film and did a little more fashionable version for H&M."