Cosmopolitan Criticized For Putting 17-Year-Old Dakota Fanning On Its February Cover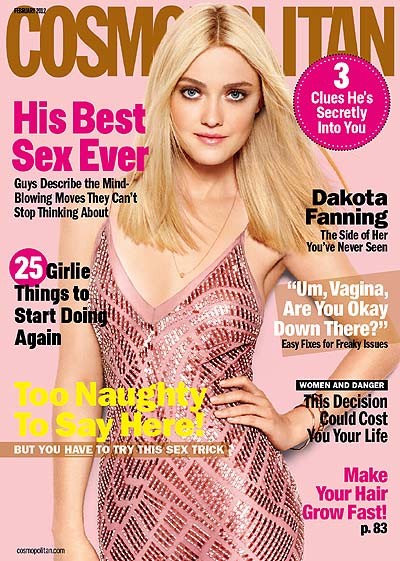 "Welcome To Your Cosmo Years, Dakota," reads the headline at the beginning of Cosmopolitan's February 2012 feature story on teen actress Dakota Fanning, who they named this year's "Fun Fearless Female of the Year."

The sexually charged women's magazine has come under fire from several websites and publications today for putting the 17-year-old Fanning on its cover (she'll turn 18 in late February), questioning whether or not she might be too young to be featured alongside such headlines as "His Best Sex Ever," "You Have To Try This Sex Trick" and "Um, Vagina, Are You Okay Down There?"

But it seems that Dakota doesn't have any problems with it, telling Cosmo, "Since I was young, I've always known who I was. I never really had to go through finding who I am. I've always felt really secure."

Even Dakota's Twilight Saga: Eclipse co-star Kristen Stewart has good things to say about their experience filming 2009's Runaways.

"We had a few scenes that were crazy intimidating, and maybe once or twice, she was like 'Okay, I have a butterfly in my stomach.' Meanwhile, I'm hyperventilating! Sometimes I give her shit for being so on the ball," she tells Cosmo.
We think Dakota will do just fine becoming a woman a couple weeks early.

The February issue of Cosmopolitan, featuring young adult Dakota Fanning, hits newsstands everywhere Tuesday, January 10.