Connie Britton And Hayden Panettiere Talk Reba, Taylor Swift And 'Nashville' Singing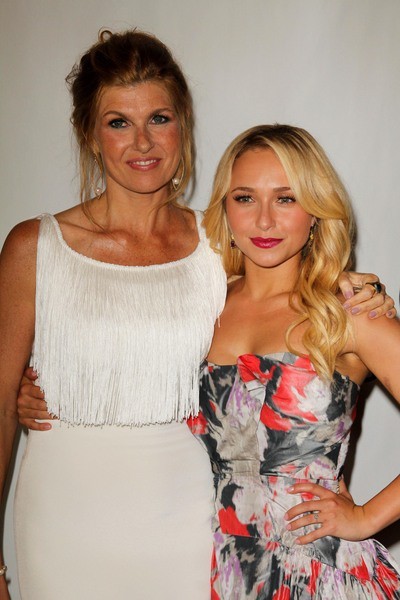 ABC's new drama Nashville stars Connie Britton as a country music star and Hayden Panettiere as the next big thing. Already the country music community thinks they know who this is really about: Reba McEntire and Taylor Swift?
"I ran into Reba McEntire on a plane," Britton said when she spoke to the Television Critics Association this summer. "And she said, 'Did you hear that they're saying that you're playing me in your show?' And I said, 'No.  I had no idea.' For me, at least, it's sort of an amalgam of a lot of different people, but I'm also  I think it's really fun to take from that sort of palette and then just really let this lone character emerge. So I don't really have any one person that I'm basing the character on."
Panettiere added, "I've heard the Taylor Swift thing quite a bit. I think aside from being around the same age and blonde, not even height, I mean [we're] very different, very different. I think you guys, once you see her and get to know Juliette, my character a little bit better, you'll see that. I really think Taylor would disagree wholeheartedly as well. She's much nicer than my character."
Both actors sing on the show. It's newer for Britton than it is for Panettiere. "It's a journey," Britton said. "It's an exciting journey because it's a journey with T Bone Burnett, but it's been a journey and I would say actually for me it's a dream come true, too, because as an actor to have the opportunity to stretch my muscles in this way.  I have sung my whole life, but not really that professionally. Not really professionally at all but as an actor to be able to work with the best, the best writer and the best music producer, that's also a dream come true."
Music is not new to Panettiere because she has recorded an album when she was a teenager. "In that period of time, I just was so ever changing as a person, and I think music really reflects who you are as a person, so you're really putting yourself out there. I quit after about four or five years of recording, and I said this is not me.  But I said that if I was ever going to do music again, I would do country music, and for this to come along and to get both of the things I love combined in one show, it's a dream come true.  Really.  And I don't mean that in a cliche way."
Nashville premieres tonight on ABC.