Concerts Break Out At The DNC and RNC Conventions
Conventions or Concerts?



The month of August brought the U.S. two big music festivals, one in Denver and one in the Twin Cities. Oh, wait, what's that you say? These weren't music festivals, but the Democratic and Republican National Conventions? Interesting. In the past, presidential candidates have used music as part of their campaigns, but never before like this. This summer, the 2008 Democratic and Republican National Conventions crossed politics and music so much that they rose to concert-like levels.

Obamapalooza, err, I mean the DNC featured performances by Melissa Etheridge, John Legend, Sheryl Crow, Dave Matthews, and Sugarland. That's quite the line-up for a political event. Other performances in Denver but that weren't directly sponsored by the DNC included those by Pharrell Williams, Cyndi Lauper, Fall Out Boy, Jakob Dylan, and Ashanti.


John Legend Sings "If You're Out There" at Democratic National Convention

The RNC could have been nicknamed McCain's Country Fest, since most of the performers featured came from that traditionally more conservative musical genre. Performances came from
Trace Adkins
, John Rich,
Gretchen Wilson
, and
Cowboy Troy
. Rich, Wilson, and Cowboy Troy performed a medley that included The Star Spangled Banner and the Pledge of Allegiance, and Rich performed a song written especially for the Republican Party's nominee, titled "Raisin' McCain." Despite this all star country line-up, though, the biggest musical story by far to come out of the RNC was the use of the
Heart
song "Barracuda" as Sarah Palin's theme (See:
Heart Furious Over Republican's Theme Song
).
John Rich At RNC Convention - Raisin' McCain Music Video

While McCain and the RNC went with a streamlined all country lineup, Obama and his supporters went in a completely different direction by diversifying, almost to an extreme, the music featured at the DNC. It seems like more than ever politicos are choosing this route and using a variety of celebrities, performers, and musical genres as part of their public images. Heck, McCain even commented when
Heidi Montag
threw her support behind him.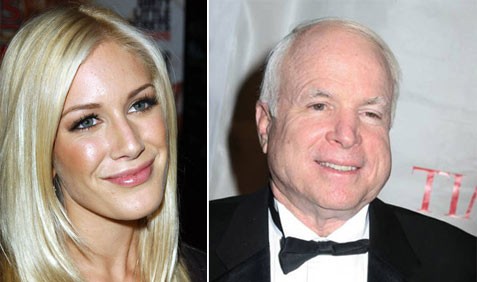 Heidi Montag gives her support for John McCain
Perhaps this is an effort to connect with voters based on a non-political commonality. By reflecting their creative tastes back to them, candidates might be hoping to instill a "Hey, I knew I liked that guy," feeling in voters. Lots of people judge others based on their taste in music, so it may not be so far fetched to think that voters might be swayed based on their perception of a candidate's musical choices. Whatever the reason, Lollapalooza has some serious competition, even if it only comes once every four years.
Story by
Sarah Levin
Starpulse contributing writer