Concert Review: 'The Voice's' Vicci Martinez and Jamar Rogers
Call it the concert tour with a big heart. The Voice artists Vicci Martinez and Jamar Rogers are performing together, and made their first-ever stop in San Diego Thursday with great results.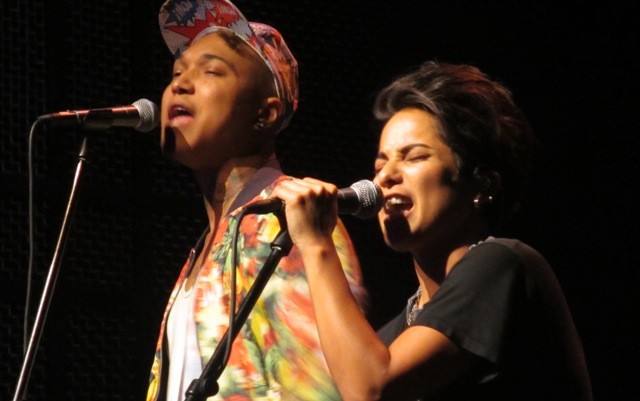 The two come from two different seasons of the NBC show - Vicci was the Team Cee Lo finalist in the first year and Jamar was a semifinalist on Team Cee Lo in the second run - but you'd never know that based on their set at San Diego's Anthology. Their interactions showed a chemistry as if they had been on the same team.
In a sense, perhaps they are, because they are very similar artists. It's not necessarily in their style of music; Vicci is a rocker while Jamar employs hints of electronica in his songs. But they both performed material with substance and meaning behind it, and their performances were some of the most emotional this reviewer has ever seen in concert. Both of them clearly make music for some purpose other than just creating an entertaining or commercially viable sound.
Jamar appeared visibly affected as he sang his original song "High," which he wrote during a difficult period in his life. Vicci led the audience in singing along with "Touch That Fire," a song significant to her that was overlooked by a previous record label that made it onto her new release. Not only did the crowd get to hear good music from the two artists over a two-hour set, but they were treated to an understanding of the stories, both the highs and lows, that made them who they are today.
This is what makes a concert worth going to. It's not necessarily the sound of the music - although it sounded fantastic; Jamar filled in wonderfully for Cee Lo on Vicci's lead single "Come Along" - but it's the experience, the things that you can't capture with a CD or iTunes download. It's about sharing something with the artists and fellow fans. The audience heard their positive messages and got to know them better than they may have from The Voice.
It was everything one could have asked for from a live music experience. At the end of the evening, the standing applause was well deserved.
Their next tour stop is today at Hotel Utah in San Francisco; you can find more tour dates at Vicci's official website and JamarsFam.com.
For more coverage, including full interviews with Vicci and Jamar, and a review of Vicci's new self-titled album, visit Big Red Chairs.
For more from Brittany Frederick, visit my Starpulse writer page and follow me on Twitter (@tvbrittanyf).
(c)2012 Brittany Frederick/Big Red Chairs. Appears at Starpulse with permission. All rights reserved. No reproduction permitted.