Concert Review: Norah Jones PBS 'Soundstage' Taping At St. Ann's Warehouse

On January 27, I had the pleasure of attending the taping of
Norah Jones
' performance for an upcoming installment of the PBS music series, "
Soundstage
." Even on a bitter cold and blustery New York evening, it was well worth my trip from Harlem to DUMBO's St. Ann's Warehouse, not only for the entertainment, but also for what would probably be my last chance (for a while, at least) to experience one of the most beautiful sights in the city - the view of the Brooklyn Bridge and lower Manhattan from Old Fulton Street. I'm moving out of state in March, so I'm just trying to breathe in as much of New York as I can.
Turns out, this was the perfect concert for doing just that. As a NYC native, it's not surprising that Jones uses the city as a "character" in much of her songwriting.
What was surprising was that this was not the Norah Jones I was expecting. Prior to the show, I only knew a handful of her songs from her hugely popular debut album, "Come Away With Me." It seems that between then and now, she's managed to enjoy a fair amount of commercial success while still flying under the mainstream radar enough to be slapped with a prestigious "indie" label. And with her new record, "
The Fall
," it seems as if Norah's aiming for an even more commercial sound; it has the potential to win over the all-important younger crowd, who just thinks she makes "old people music."
I was also thrown by Norah's new look: she traded in her long, flowing curls for a sleek, straight bob. Actually, when the band first came out on stage, I confused Norah for a minute with her long-maned "sidekick," vocalist/guitarist/percussionist Sasha Dobson.
Touring in support of "The Fall," Norah and her band mainly stuck to that record, filling up a 19-song set with all of its 13 tracks. Things appropriately kicked off with the album's first single, "Chasing Pirates," a cool song with a sweet groove punctuated by some fuzzy guitar noise. Some of the other stand-outs were the soulful but somewhat upbeat lover's lament "You've Ruined Me," the beautifully sad "Back to Manhattan," and the first song of the encore, "Stuck," which must be one of the more rockin' numbers Norah's ever recorded. That song also allowed a nice opportunity for her guitarist, Smokey Hormel (who's played with
Tom Waits
and
Johnny Cash
), to show off his chops. He was really…cookin'. (Oh, I was making sausage/hot dog jokes all night. I'm sorry, but Smokey Hormel is one of the greatest names I've ever heard.)
In between songs, Norah proved to be as lovely as her voice, all at once gracious, good-natured, girly, and sometimes goofy. She humored the audience by chit-chatting while the camera men changed tapes and by doing impressions of the animated YouTube character, "Babycakes" (an Internet sensation I don't quite understand). She also handled a flub with lighthearted grace. During the first verse of one of the earlier songs, Norah stopped and apologized to the audience that she was going to have to start over. Apparently, she flubbed a line (which I didn't notice), and one of her keyboard pedals was sticking, and she wanted to get it perfect since the show was being taped. It was a good call on her part, as the song - a rather Springsteenesque tale with its Mustangs and broken gaskets - ended up being one of the highlights of the set.
Filling out the set were three covers, Wilco's "Jesus, Etc.," Tom Waits' "Long Way Home," and The Kinks' "Strangers," along with "Sinkin' Soon," a track from her second album. Of course, the biggest applause came when Norah performed two songs from "Come Away With Me," the title track and a stripped-down version of the hit "Don't Know Why," which was the final song of the evening.
Although I went into this show knowing very little about Norah Jones, I came out of it with a new appreciation for her songwriting, musicianship, and stunning voice. In fact, almost immediately after getting home, I hit up Amazon to buy several tracks from "The Fall," which have been getting a lot of action on my iPod over the last few days. I highly recommend the album and, if Norah happens to be playing at a venue near you, I highly recommend checking her out.
Look for Norah's "Soundstage" performance on PBS this spring. (Air date/time TBD.)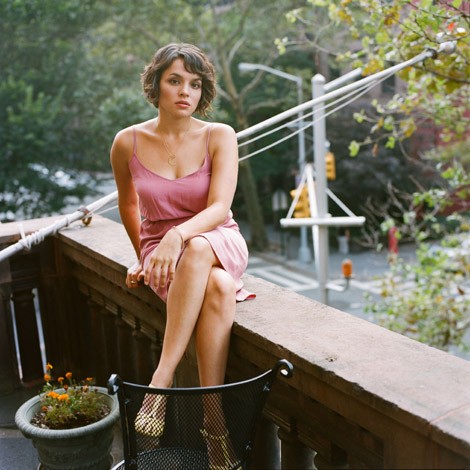 Image © EMI Music North America
"The Pop Eye @ Starpulse" is a column written by native Pittsburgher and current New Yorker,
Becky Broderick
. You may contact Becky directly at beckeyeam@gmail.com, or check out her other ramblings on
The Pop Eye
.