Concert Review: Marilyn Manson & Ours At The Orpheum Theater

I attended the
Marilyn Manson
Concert on Saturday, Jan. 26, at the Orpheum Theatre in Boston because one of my favorite bands,
Ours
, was the opening act. I had never been to the Orpheum before but it's a fairly large venue, and thankfully they allow you to drink at your seats now (years ago they didn't).
Ours only played a few songs, some new ones off their upcoming Album 'Mercy' ("Willing," "Mercy," etc.) and some old songs off their previous albums ("Realize," "Fallen Souls") so I was happy they did a mix of both new and old stuff.
I was so glad that the crowd was much more accepting of Ours than the last tour when they opened for
Circa Survive
. There were a few people in the crowd who were yelling for Manson, but for the most part people were cheering for them. Jimmy Gnecco (the singer of 'Ours') smoothed it over by thanking everyone for being patient while waiting for Manson to come on stage.
Bassist Tom Hamilton from
Aerosmith
attended the show also, and I talked to him for a while and took a few pictures with him. He was really nice and told me that he was there to see Manson and he heard that Ours was a good band as well.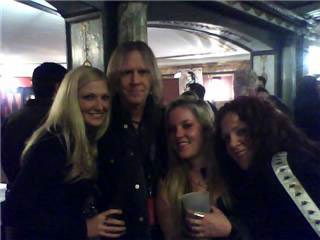 Aerosmith bassist Tom Hamilton & fans enjoy a Marilyn Manson show in Boston.
I'm not a huge Manson fan, but I do like a few of his songs. He put on a really great show. The stage was a great setup, lots of candles and flashing pictures in the background. He played all my favorite songs: "Tourniquet," "Beautiful People," "Dope Show" and, of course, the infamous "Sweet Dreams"
Eurythmics
cover. I thought he sounded great.
If anyone is considering seeing them on this tour, I'd definitely recommend it. You won't be disappointed.
Story by
Rachel Burke
Starpulse contributing writer