Concert Review: Linkin Park and Incubus, 2012 Honda Civic Tour
The 2012 Honda Civic Tour arrived in Carson, CA on Saturday night with co-headliners Linkin Park and Incubus. The two bands and opener MuteMath packed the Home Depot Center on their next-to-last tour stop, and did not disappoint legions of both bands' devoted fans.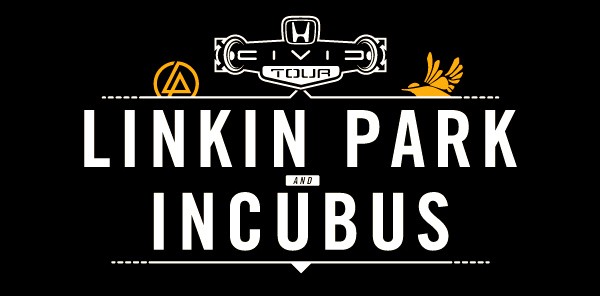 Incubus opened their set with "Privilege" from their 1999 breakout album Make Yourself, then segued into "Wish You Were Here," the first single from 2001's Morning View. Other songs included "Megalomaniac" from 2004's A Crow Left of the Murder, "Adolescents" from their most recent album If Not Now, When? (2011), and "Anna Molly" from 2006's Light Grenades.
They brought enthusiasm, a gong, some bongos, and turntables, yet aside from some light effects, played a surprisingly serene set. One of the highlights of the hour-plus was the much quieter "Promises, Promises," which came across with a certain appealing earnestness. While it was different from the rest of the set, that worked to the song's advantage, as it gave the audience a chance to appreciate lead singer Brandon Boyd's vocals largely on their own. There were instances during the evening where he was drowned out, either by the band or perhaps his microphone wasn't turned up high enough.
It wouldn't be an Incubus concert without their most popular single "Drive," of course, and the audience reaction proved that the song has held up over more than a decade. Rather than save it for the end, they made the interesting choice to place it in the middle of their setlist. Indeed, watching Boyd and company was as if we had been invited over for a jam session, rather than an arena-filling concert.
If this is indeed their last tour for awhile - the band has stated they will go on hiatus following the end of the Honda Civic Tour on Monday - then Incubus has left the stage with a showing representative of nearly their entire musical resume.
However, their performance ended up seeming underwhelming compared to that of Linkin Park, who roared on stage with "Faint" from 2003's Meteora and never looked back. They were the perfect choice to end the evening, as they seemed to take control of the arena rather than just perform for the audience.
Other songs on their setlist included "Papercut" from their 2000 album Hybrid Theory, "Given Up" from 2007's Minutes to Midnight, and hits like "With You," "Somewhere I Belong," and "New Divide." They also found room on the bill for tracks from their recent release Living Things, including current hit single "Burn It Down," which was the band's encore along with "In the End" and "Bleed It Out."
The harder edge to Linkin Park's music lent a different, more aggressive energy to their performance that unintentionally overshadowed the rest of the bill. Nothing else could quite compare to Chester Bennington and Mike Shinoda stalking across the stage with seemingly boundless energy and complementing each other like a well-oiled machine. One imagines Bennington must need to drink a lot of water after all that growling and yelling, though.
Although the band's sound has changed considerably over their discography, you wouldn't have noticed from their performance on Saturday night. Material from all of their albums was interspersed throughout the set, and every transition was seamless, whether it was a new song or an old favorite. Rather than take the traditional tack of playing cuts from most recent album and mixing in a few chart-toppers, both Linkin Park and Incubus played from across their entire catalog, with Linkin Park having more success at keeping the energy level up throughout. This was a concert tour aimed at the most devoted fans, rather than simply in support of an album.
Particularly refreshing was that, in this day and age of concerts packed with lip-syncing and whiz-bang distractions, these two bands just showed up and showed us why they have stuck around for as long as they have. Aside from an overuse of steam effects during Linkin Park's rendition of "Lost In The Echo," there wasn't much that took away from the performances on stage. Incubus and particularly Linkin Park should be proud of a return to California that showed off the best of their respective bands.
You can also read our interview with Linkin Park's Chester Bennington and Incubus' Brandon Boyd about the 2012 Honda Civic Tour.
The Honda Civic Tour runs through September 10. For more from Brittany Frederick, visit my Starpulse writer page and follow me on Twitter (@tvbrittanyf).  
(c)2012 Brittany Frederick/Digital Airwaves. Appears at Starpulse with permission. All rights reserved. No reproduction permitted.