Concert Review: Earl Klugh and Kenny G, Thornton Winery
Temecula's Thornton Winery was the site of another satisfying evening of jazz as Earl Klugh and Kenny G put on an entertaining show on Sunday evening.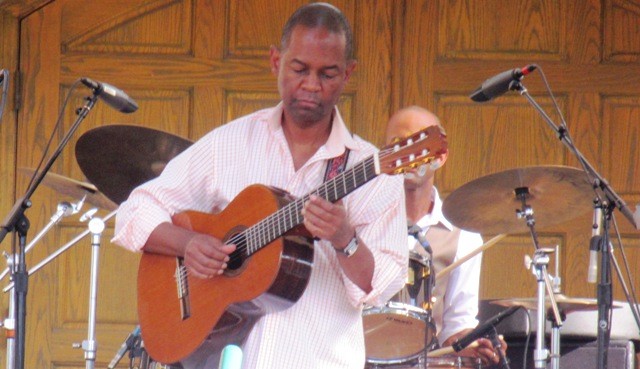 Grammy-winning guitarist Klugh (read our interview here) opened the evening with a varied arrangement of songs from his extensive catalog, ranging from more Latin influences to some of his well-known hits. The choice of material showed how versatile he has been over his decades-long career. It perfectly explained how Klugh has been a successful solo artist and performed with some of the best in the business, including Kenny G - his body of work is diverse yet always flawless.
In the second half, Kenny G was an instant crowd-pleaser, as he arrived from the rear of the venue and played while moving through the audience, before holding one note for several minutes (he holds a Guinness World Record for the longest note ever played on a saxophone, at over 45 minutes). He, too, selected from across his entire catalog, including major hits and selections from his recent album Heart & Soul, before making the intriguing choice to close with Christmas music.
Both artists were fairly comfortable with the intimately-sized crowd, though there were some awkward pauses. They were both willing to laugh at themselves, whether it was Klugh cracking a joke about how his idea of Latin music isn't considered "real" Latin music, or Kenny G deciding to poke fun at his divorce as well as his trip to the White House.
Watching their interactions on stage, it was easy to see how both artists have developed their fan followings. In this age of huge productions and many special effects, one must give credit to the artists, jazz and otherwise, who put aside those things and simply connect with their audience.
It is also worth noting that both artists were supported by impressive bands, which they wisely took time out of their sets to highlight. In particular, both drummers were incredibly talented, and Kenny G's percussionist Ron Powell was simply astonishing. In all this reviewer's years of concert-going, I have never seen a percussion solo better than the one that Powell performed on Sunday night.
The show was the latest in Thornton Winery's Champagne Jazz series; the venue previously hosted Bobby Caldwell and David Benoit in June.
For more from Brittany Frederick, visit my Starpulse writer page and follow me on Twitter (@tvbrittanyf).
(c)2012 Brittany Frederick/Digital Airwaves. Appears at Starpulse with permission. All rights reserved. No reproduction permitted.