Concert Review: Collective Soul At Centennial Park

The massive crowd at Centennial (Olympic) Park was dominated by red and maroon…red for the Alabama fans and maroon for the Virginia Tech fans. Their teams would square off later at the Georgia Dome for a college football week-one match up. Lucky for them - and everyone else here - Georgia's own
Collective Soul
had agreed to put on a free concert in the heart of the revitalized downtown Atlanta. This would be one of those shows for which the planets would align: the weather was perfecto, the sounds were exquisite, and the SEC fans were all amenable (even the Hokies, who would soon experience losing the first game of the season).
Touring in support of their self-titled new release, Dean Roland and crew were sounding fresh and relevant. The band appropriately kicked off the show with their new single "
Welcome All Again
," showcasing the excellent vocals and trademark guitar-driven sound that made them famous.
Among the other songs on the set list were "Gel," "Shine," the new "Staring Down," and "December" ("Don't speak aloud / Don't dream about / Turn your head now baby just spit me out"). Before playing 2008's "Hollywood," Roland explained that this song had been written while they were touring with
Metallica
, and that it was a tribute to the great 80s bands like
INXS
,
The Police
,
The Cars
, "and our favorite:
REM
" The mere mention of one of Georgia's all-time greatest exports brought huge cheers from the audience.
Leading up to "Run," Roland told us that this is where they'd usually leave the stage and wait a few minutes while the fans roared for an encore. "But since we're all friends, neighbors, and relatives, we're just gonna stay out here. If we were somewhere else, I could be cool and leave. I mean, we're gonna play this song anyway, right?" The song ended with Roland being the last to walk off stage playing his acoustic guitar, and the crowd singing, "I've got a long way to run."
Sadly, I showed up too late to enjoy another local favorite, Drivin N' Cryin. This I regret. But finally getting to see one of my faves in Collective Soul did my soul good.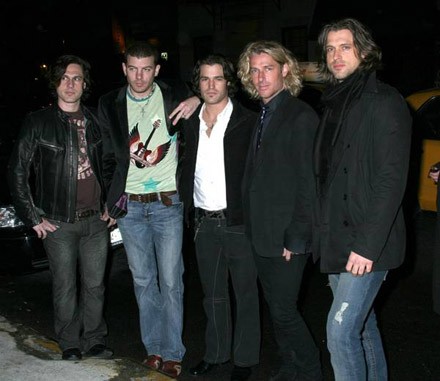 Image © Janet Mayer / PR Photos
Story by
Kevin Triebsch
Starpulse contributing writer