Concert Review: AFI At The Riviera Theater, Chicago, Nov. 7

"I can die happy now." Those words came out of the mouth of a sixteen year old girl I befriended at Saturday's
AFI
show at the Riviera Theater in Chicago. I couldn't help but smile. The show really was that good. Watching Davey, Jade, Hunter, and Adam up on that stage with so much vivacity…it's hard to believe they've been making music for 18 years. They poured all of themselves into the show and made for one hell of an evening.
Starting off as an East Bay hardcore band, AFI has evolved through many stages in their long history, showing shades of pop-punk and electronica in recent years. Touring for their latest album,
Crash Love
, the boys mixed up the set list with new tracks and old favorites. Among the picks were the chart-toppers, "Girl's Not Grey" and "Miss Murder", along with rarities like "On the Arrow" and "Ever and A Day".
Havok took a few moments near the end of the set to simply listen to all the screaming fans in the audience, and soak in the cries of elation and adoration. He thanked Chicago for being generally awesome, and especially for "actually watching and singing with the show and not filming!"
The energy of the crowd was radiant, with fans of every age singing and moshing along. I saw a boy as young as eight, and a woman as old as sixty. I'm continually impressed at how AFI is able to reach so many various fans. Long time fans will scowl and cry out about how the band has "changed" - but I say change is good. When you've been making music for almost twenty years, you've gotta roll with the punches and keep things interesting. AFI is never boring, if nothing else.
"Crash Love" takes a different turn from previous albums, and is the most mainstream effort from AFI. The catchy "Medicate" is infectious and fun, while "Too Shy to Scream" takes on a big band sound, and "Torch Song" brings back the melancholy of "Sing the Sorrow."
A few chant choruses, a fight or two, and some crowd surfing later, and the hour and a half set flew by in a haze of sweaty bodies and spilled beer. I left the Riviera with ringing ears and adrenaline coursing through my veins - the kind of post-show high only granted on those rarest of occasions when the music truly touches something within you. AFI's adopted mantra, "through our bleeding, we are one" never seemed to bring fans together like it did this chilly November night in the Windy City.
Review by
Ashley Demma
Starpulse contributing writer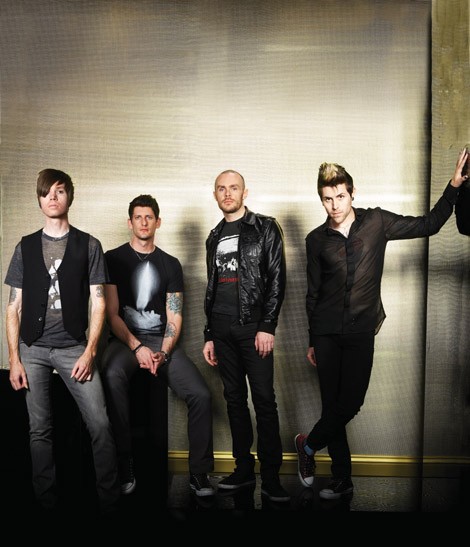 Image © INSERTPHOTOCREDITHERE