Conan O'Brien Reveals His Epic Scene From SyFy's Upcoming 'Sharktopus vs Pteracuda'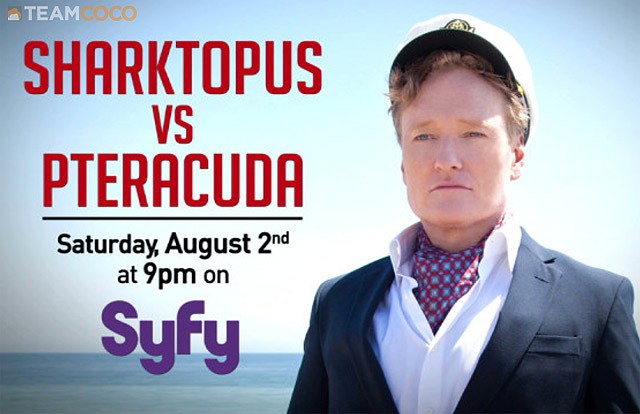 Conan O'Brien is set to make his acting debut in the upcoming SyFy schlock-fest "Sharktopus vs Pteracuda," and the TV host shared his big scene on Wednesday night's episode of Conan.

The comedian announced his part in the film last week, revealing a billboard to celebrate his first film role in director Roger Corman's latest campy film, the sequel to 2010's "Sharktopus."

Conan's billboard touts his role as a "career defining performance" in the Sy-Fy B-movie, and even calls for consideration for major awards.

"For Your Emmy And/Or Oscar And/Or BAFTA Consideration," the billboard reads.
The star even took out a full-page ad in The Hollywood Reporter. "I've never worked so hard to meet the dramatic demands of a performance... I want this to be my legacy," reads his quote in the ad (see it here).

Conan's big scene in the film involves him playing a super snobby version of himself, calling his assistant by the wrong name and interrupting a beach volleyball game, yelling, "Hey, watch it! I'm Conan O'Brien," before one of the Sharktopus's tentacles takes him by surprise.

The host and sidekick Andy Richter dressed up in fake tuxedos to announce the clip, which received a standing ovation from the studio audience.

Check out the hilarious scene below (warning: despite the poor special effects, the clip gets pretty bloody):


Conan's announcement: