Conan O'Brien Gets Cornrows And A Spray Tan (Video)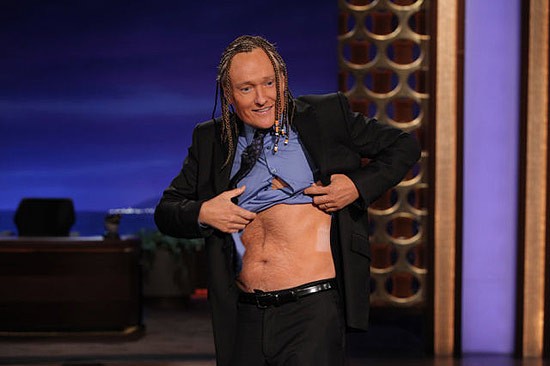 Conan O'Brien did his best Jersey Shore impression Thursday night when he showed up to host his hit TBS show wearing cornrows and a fake tan.

"My audition for 'Jersey Shore' went really well, I aced that thing," he joked.

The star, who promised fans he'd have the crazy makeover done if they raised enough money during Sunday night's "Night Of Too Many Stars: America Comes Together for Autism Programs" telethon on Comedy Central. Conan made good on his promise, really having his famous ginger coif put into cornrows.

"I wish we had time to get a slow-mo shot of you coming out of the ocean," said co-star Andy Richter in a reference to actress Bo Derek, who sported the same hairdo in 1979's "10."

"It hurts, it really hurts," Conan said after Richter asked him if it hurt.

O'Brien then asked a show writer Deon Cole to come out and inspect his spray tan, saying that he was worried it might be too dark.

"It's not racist..." Cole said. "It's just stupid."

Check it out below...