'Conan O'Brien Can't Stop' And He Never Should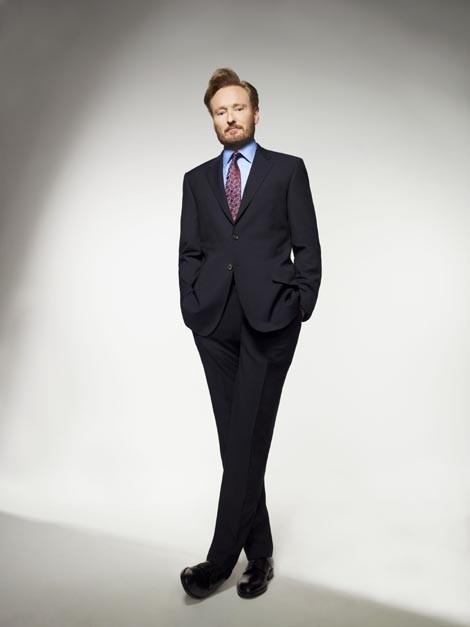 We've heard the story: Conan O'Brien is ousted from his life long dream of hosting "The Tonight Show" by NBC to the tune of  30 million dollars in severance and a six month gag order legally preventing him from appearing on television, radio, or the Internet.

And thus a stage show was born. The Legally Prohibited from Being Funny on Television Tour is the focal point of "Conan O'Brien Can't Stop". Last Summer, Conan, his producer, his assistant, and his writers embarked on a nation wide, 44 performance stand up comedy variety show tour, a happy amalgamation of old school vaudeville and new school technology like wireless microphones, guitars, and video screens.

And let me tell you, that show looks like something special. The crowds are rabid, chanting for Conan like he's a Beatle or an actor from "Glee". There's music and dancing and comedy and improv and jokes and special guests like Eddie Vedder, and Jim Carey abound.

However, "Conan O'Brien Can't Stop" isn't really about the show. Sure, there's oodles of footage from the show in this documentary, but the film is really about Conan O'Brien being on tour for the first time, without the safety of a second or third take like had in the TV days.
At times it's frustrating for him. A particular example is a series of events late in the film where Conan is thrown a party by his talent agency before a big show. There's a flood of people, all wanting a picture, an autograph, an exciting moment with Conan the celebrity, not a quiet moment with O'Brien the man. In between these moments, Conan quietly looks for his producer in an attempt to stymie the flood of well wishers, because he'd talk all day to everyone unless someone stops him. The next scene is a weak voiced Conan performing live on stage.

The quality of film, and the enjoyment you derive from, probably greatly depends on how much you care about television, how big of a fan of Conan O'Brien you are, or how much you enjoy taking a peek behind the scenes.
The film was shot, edited, and produced by Rodman Flender, who directed "Idle Hands" as well as assorted television episodes of "The O.C." He's a good choice to helm the film, as he's worked in the industry, and gives us enough of the inside baseball showbiz talk folks seeing this film are going to want. If you're not a fan of any of this sort of thing, you may be bored and or confused.

However, because Conan is a showman, you do get the sense that by even having a camera focused in his direction, Conan is still performing, just a bit.
Don't let anyone tell you otherwise. People who are driven to be in front of an audience and perform are notoriously self conscious, are often times their own worst critics, and most importantly, want people to like them. And through this film we do see glimpses of a Conan O'Brien that isn't "on."
The Conan that's a serious producer, writer, and talent, still reeling from having the rug pulled out from under him, wondering if people are actually going to *pay* to see him perform for the first time in his life. They Do. I did. You should.